News from Our Coasts: Week of 6/15/2020
Posted
Last Updated
NEWS & UPDATES THIS WEEK
NOTE FROM THE EDITOR: To help our coastal community weather the pandemic, US Harbors is posting weekly news summaries of updates and announcements received from our coastal community, including timely information on the status of harbors and marinas around the country. The deadline for submission is Thursday, 11PM ET. Items received after that time will be put in the next week's summary.
Welcome to the US Harbors Family:
J. Laub Metalworks is open for business through this Covid-19 time. Copper was long ago understood to be antimicrobial, meaning bacteria was not able to live on it's surfaces. J Laub Metalworks creates ornamental architectural accents for home, boat and offices. Everything from logo plates, functional art & bowls to kitchen/bath backsplash copper accent pieces, fireplace mantel front plates and surround tiles. Hand fabricated custom pieces tailored to your project and needs.
Architectural accents for boat & home.
Kitchen/bath backsplash, shower & fireplace surround copper tile accents.
Address, logo & name plates.
Ornamental deadbolt surround.
Functional Art.
Copper fireplace mantle front.
Click HERE to check out their designs!
News & Events from Our Partners
Searching for the perfect Father's Day gift?

Maine Boats, Homes & Harbors magazine is celebrating Dad with a special offer– only $19.95 (that's a 33% discount!) for a 1 yr/6 issue subscription. Includes digital access to the magazine!

Send Dad a Maine Boats, Homes & Harbors magazine subscription and every two months he can escape to the beautiful Maine coast. In its pages, some of Maine and New England's best writers and photographers will introduce him to the locals: boatbuilders, architects, craftsmen, master gardeners, fine artists, gourmet chefs, and just plain folks. Order HERE.

Updates From Our Coastal Business Community​
Cape Cod Maritime Museum – The waters off Cape Cod, with their dangerous shoals, have the gruesome distinction of being the site of more than 3,000 shipwrecks.On June 15, one hundred and seven years ago, another vessel joined that ocean graveyard. The coal schooner Paul Palmer, which had embarked from Rockport, Maine two days previous, caught fire off Race Point in Provincetown. The crew and passengers were successfully rescued by a nearby fishing vessel, but the abandoned ship sank.

The Stellwagen Bank National Marine Sanctuary located the wreck in 2000 and captured detailed video and still imagery of the remaining sections of the vessel that lie on the ocean floor.

You can read more about the Paul Palmer and see imagery from the Sanctuary research efforts here:

The Cape Cod Maritime Museum helps to chronicle the stories of shipwrecks in the waters around Cape Cod, including with the acquisition of a unique maritime artifact from Lewis Bay that will become the center of a new exhibit in the coming years.
The 124 year old Historic, Halifax River Yacht Club, and all marinas in the Volusia County area of the ICW in Florida, are open and accepting transient boaters.

Halifax River Yacht Club is open to reciprocity and fully functioning at 100% in all 4 areas of Dining, as well as our pool, pickleball courts and all amenities.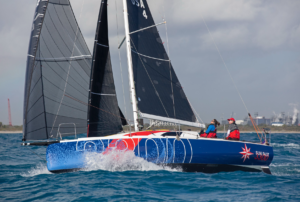 NEWPORT, R.I.  – The annual Ida Lewis Distance Race, scheduled for its 16th edition starting Saturday, August 15, has announced that Jeanneau America is the event's new Presenting Partner. The news comes on the heels of the race changing its start date from Friday to Saturday to better accommodate an inclusive weekend schedule and coincides with other exciting changes for the event, including a Mixed (coed) Double-Handed class added to its traditional lineup of IRC, PHRF (Spinnaker and Cruising Spinnaker), One Design, Multihull, and open Double-Handed classes.
"Jeanneau America is thrilled to be named the Presenting Partner for the 2020 Ida Lewis Distance Race," said Nick Harvey, President of Jeanneau America. "With a ton of support from our local dealer Bluenose Yacht Sales, our new Jeanneau Sun Fast 3300 is poised to be the one to watch in the new Double-Handed division."
| | |
| --- | --- |
| INACE Superyachts – International yacht and ship builder INACE (Indústria Naval do Ceará S.A.) in Fortaleza, Brazil, is proud to announce the launch of its new division: INACE Superyachts. A partnership between the 52-year-old shipyard; its Brazilian dealer Yacht Collection, and international distributor Flavio Constantino, an experienced yacht broker based in Florida, the new division's goal is to develop, build and sell modern, world-class explorer yachts for the global market. The new division's first two hulls, both Explora 90′ models, are in construction at the INACE shipyard, with Hull No. 1 scheduled to launch in February 2021 and make its world debut at the Rio Boat Show in Rio de Janeiro in April 2021. | |
Kennebunkport Resort Collection (KRC) – a diverse portfolio of properties in Kennebunkport, Maine.

In an effort to encourage in-state travel, KRC launched a "Love Our Locals" package where Maine residents can enjoy the great outdoors, coastline adventures and scenic views with exclusive savings and dining credits. While still following social distancing and in compliance with CDC guidelines, the package includes:

25% off room of choice at one of the following hotels:
$25 dining credit to The Boathouse Restaurant

**A Maine ID will be required at check-in. Package is valid now through June 30, 2020 and is subject to availability; $25 dining credit per reservation is valid at The Boathouse Restaurant only. Taxes and fees are not included. This offer may not be combined with any other offers. 

While visiting the properties, Maine residents can enjoy:

Canoe, kayak and paddleboard rentals at The Yachtsman and The Boathouse
Beach cruiser bicycles rentals at The Boathouse and The Cottages at Cabot Cove
Outdoor lawn games including Croquet, Bocce Ball, Corn Hole and Giant Jenga at The Cottages at Cabot Cove
Refreshing summer treats, like Boozy Popsicles and $1 Oysters, and The Boathouse Restaurant
Join the Fun in the First Ever Balloon-a-Palooza!

Friday June 19th – Sunday July 5th

How to Play:

1.     Take Photos of Any & All Balloons You Collect

2.    Submit Your Findings- Email or Tag Us on Instagram

OR

Post your findings on Instagram, and tag @Rexmarine_NorwalkCove

3.    We will keep track of the number of balloons participants have collected, keeping you updated with some friendly competition along the way

4.    Final Submissions must be sent by Sunday July 5th at midnight

Ways to Win:

–       Most Balloons Collected from 6/19- 7/5

–       Greatest Assortment of "Species" (Birthday, Graduation, Father's Day etc.)

–       Youngest Participant Award

–       Most Unusual Balloon

–       Flotsam Award: Find the Most Unusual Piece of Water Debris

Click

HERE

for the full list of prizes!
Sea Time Fishing of Kittery, Maine – Things are really picking up in Southern Maine. Schoolie Stripers are solid and the Mackerel are ferocious.  I expect the big stripers to be here soon.  Haddock fishing is also still good. – Captain Larry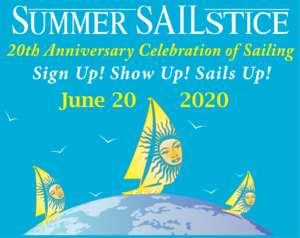 SummerSailstice.com – The final countdown to the 20th Anniversary of Summer Sailstice is upon us. We don't care how you do it, we just hope that you will join us by celebrating sailing on the longest day of the year.

The 20th Anniversary of Summer Sailstice is one of the only events in June, and a great opportunity to get your customers out sailing again. Normal will return when you help to get everyone out sailing.
Summer Sailstice, June 20, 2020, is a unique opportunity for you to help get all your customers and the whole world to start their summer of sailing 'together' on the solstice.

Email: [email protected]com for questions or information about partnering with Summer Sailstice.
Turner Farm, North Haven Maine – Our dock is ready for you to stop by and enjoy some delicious take-out food

TAKE-OUT DINNERS PICNIC STYLE

PICK-UP AT THE BARN OR DOCKSIDE TO TAKE HOME

OR ENJOY AT OUR OUTDOOR PICNIC TABLES

MONDAY 4:30-7 PM

INDIVIDUAL PLATES – $20

ORDER BY MIDNIGHT SATURDAY

June 22nd – TF pork and beef meatballs, Spaghetti in red sauce, Caesar Salad, Garlic Bread

June 29th – BBQ Pulled Pork, Baked Beans, Coleslaw, Potato Roll

July 6th – Vegetable Masala Curry, Basmati Rice, Chutney and Raita

THURSDAY & FRIDAY 4:30 TO 7 PM

MEALS FOR TWO – $90

ORDER BY MIDNIGHT WEDNESDAY

Thursday June 25th & Friday June 26th

Seedy Focaccia

Marinated Fresno Chilis with Fresh Ricotta Tender Lettuces with Champagne Vinaigrette

Sweet and Salty Cucumber Salad Roasted Carrots and Potatoes with Pine Nuts and Sage Parmesan Polenta Turner Farm Hot Pork Sausage with Smokey White Beans and Kale

PRIVATE DINNERS AVAILABLE. PLEASE CONTACT US FOR DETAILS. 
Photos of the Week
NOTE FROM OUR EDITOR: Do you have a beautiful or fun photo of your harbor, what you've been doing for social distancing, or a project you're working on? Send it to us!