SPONSORED CONTENT
5 Tips for Buying a New or Used Boat
Posted
Last Updated
By Stacey Nedrow-Wigmore/BoatUS
With families unable to spend their usual summer traveling, attending summer camp, or visiting friends and relatives due to the coronavirus pandemic, many more Americans turned to boating in 2020 than in years past. The National Marine Manufacturers Association reported that sales of new powerboats were up 22% in July compared to same month sales a year ago. Used boats were getting snapped up as fast as they came on the market, and surveyors were booked clear through the summer.
Boating is definitely having a moment, and it's no wonder: Boating is a great way to safely spend time with family while having fun. You can travel, "camp out," swim, fish, enjoy watersports, and so much more, in a socially distant manner. If you find yourself in the market for a new or used boat, you're ready to move up to a bigger boat, or want to try a different type of boating, here are five tips for buying your dream boat.
Where to look. Once you have figured out how much you can spend, it's time for the fun part: the search! If you know the brand of boat you want, look for a dealer in your area. If you're in the market for a used large boat, you can go through a broker, which is like hiring a real estate agent. The broker works off a commission paid by the seller, so there's no cost to the buyer. Smaller boats can also be found on boat classifieds websites as well as online listings like Craigslist and eBay. But remember that the latter two offerings carry a higher risk of fraud. Ask to see ownership documents to verify that the seller really owns the boat, and if the boat isn't local, hire a marine surveyor or have someone you trust verify there really is a boat and that the seller has the title and registration.
Get a survey. "The seller said that everything worked fine, but when I launched the boat, I found all kinds of problems!" This is a common refrain, and one that could be easily avoided by hiring an expert called a marine surveyor to inspect a boat (both used and new) before you buy it. A "condition and valuation survey" is a snapshot of the condition and value of a boat. A surveyor will go through all the boat systems and safety equipment, evaluating it according to U.S. Coast Guard regulations and American Boat & Yacht Council standards. A knowledgeable surveyor also will know if a specific make has a history of major problems. A survey helps you negotiate a price based on what repairs or upgrades a boat needs. They're also sometimes required for insurance and financing, but even if one is not required, it's worth every penny — especially if it uncovers a potentially expensive repair. Expect to pay around $15 to $25 per foot.
Complete a sales contract. Once you've settled on the boat, had it inspected, and agreed on price, complete a sales contract and pay for the boat. Dealerships and brokers have their own contracts, but read them carefully. Incomplete contracts can lead to disputes after the sale. If you're buying from a private party, you can download a sample purchase agreement or U.S. Coast Guard Bill of Sale. Fill it out completely, and don't forget to list the boat's Hull Identification Number (HIN) and all engine serial numbers. Same if there's a trailer that comes with the boat. Make sure the terms of the sale are spelled out. Is the sale contingent on a satisfactory survey or sea trial? What items are included with the boat sale? How will your deposit be returned if the sale falls through? Is there a trade-in? For new boats, request a firm delivery date and list all warranties. All contracts should have a statement that the boat is free of all liens and encumbrances.
Purchase insurance. Some states require boat insurance, but even if you live somewhere that doesn't, it doesn't mean you don't need it. Even if your bank or marina don't require your boat to be insured, having it could save you a lot of problems if you're involved in an accident, especially if there are injuries. Homeowners policies generally won't cover boats larger than a certain size and value, and they rarely cover losses that may occur with a boat such as fuel-spill liability or wreck removal. The more your boat is worth, the more important insurance becomes to protect you from financial loss. Not all policies are created equal, so look closely at the policy provisions when you're comparing options.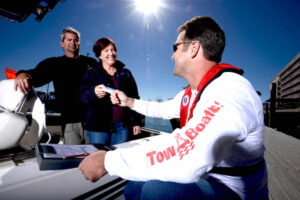 After the sale. Even though you've paid for the boat and are holding the keys, the boat isn't really yours until the seller turns over the title. Not all states require titles, however. If there is one, look it over carefully and make sure the boat's HIN matches the one listed on the title. Most states require boat trailers to be registered as well, so ensure you have documents for that, too. In most states, boats with motors will have to be registered; larger boats may need to be documented. If the boat you purchase, or any of the items that come with it, are under warranty, ensure with the company — in writing — that the warranty has been transferred into your name. Finally, look into purchasing an on-water towing membership. Don't let it ruin an otherwise great day if your engine won't start, your battery goes flat, you run out of gas, or go soft aground.
For more handy tips and advice, visit the Boat Buyers Guide from BoatUS.