Five Questions to Help You Understand Hurricanes and Climate Change
Posted
Last Updated
By nasa.gov
The 2022 Atlantic hurricane season has officially started, and NASA scientists are working with partners at NOAA, FEMA and other organizations to help communities prepare for these storms and respond to their aftermath. To gain a better understanding of how hurricanes are intensifying and becoming stronger in the face of climate change, NASA is developing technology and missions to study our home planet as a complex, dynamic system.
But what's the recipe for hurricane formation, and how is the behavior of these storms changing as Earth's long-term warming trend continues? NASA research answers these questions to help you understand how excess heat in Earth's oceans is changing the way hurricanes form and evolve.
1. What's the recipe for a hurricane?
The general name for "hurricanes" is tropical cyclones. Outside the United States, people also call these storms typhoons or simply cyclones. In short, tropical cyclones are storms with winds swirling rapidly around a center of warm air.
Hurricanes depend on four main ingredients to form. First, they need heat or energy stored in the upper layer of the ocean. This ocean heat content powers a storm similar to how fuel powers an engine. Second, they need high humidity in the air, achieved by evaporation of ocean waters above 79°F (26°C). As this humid air rises and interacts with cooler air above, it creates and grows increasingly larger clouds and thunderstorms. Third, hurricanes need favorable winds. At different heights in the atmosphere, these winds need to be weak enough to avoid ripping the storm apart. Fourth, hurricanes need background rotation to organize scattered thunderstorms into one larger storm that spins increasingly faster into a cyclone's characteristic spiral form. Some of this spin comes from Earth's own spin as it rotates around its axis.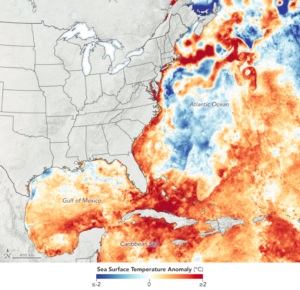 2. How does climate change interact with a hurricane's ingredients?
Ocean heat, air humidity, wind — all these ingredients factor into hurricane formation. And all are affected by climate change.
The ocean has absorbed 90% of the warming that has occurred in recent decades due to increasing greenhouse gasses, and the top few meters store as much heat as Earth's entire atmosphere. But the way winds interact with this heat or energy in the ocean also plays an important role in the fate of a storm, explained Scott Braun, a research meteorologist at NASA's Goddard Space Flight Center in Greenbelt, Maryland.
Read more at nasa.gov