Inbreeding Contributes to Decline of Endangered Killer Whales
Posted
Last Updated
New genome sequencing shows Southern Residents are highly inbred.
The small size and isolation of the endangered population of Southern Resident killer whales in the Pacific Northwest have led to high levels of inbreeding. This inbreeding has contributed to their decline, which has continued as surrounding killer whale populations expand, according to research published in Nature Ecology and Evolution.
The groundbreaking new study combined modern genomics with decades of careful field observations. An international team of researchers filled a major gap in our understanding of why the Southern Resident killer whale population is failing to thrive.
Newly sequenced genomes from the 73-whale population indicate that inbreeding is an important problem, in addition to human impacts such as marine park captures decades ago. Other well-known factors contributing to their decline include disturbance, contaminants, and possible prey limitations.
By reducing their survival, inbreeding can cut the lifespan of whales nearly in half. Without a genetic influx from other populations or some other major improvement in environmental conditions, inbreeding is likely to continue the decline.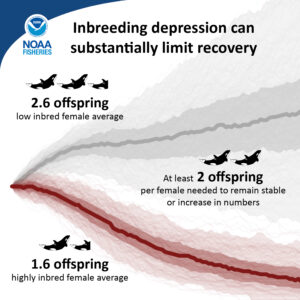 Read more at fisheries.noaa.gov.