Boating, Fishing, and Travel Information for New London, CT
Boating in New London, CT Map View
New London Harbor has more than 30 wharves and piers. Most of these facilities are used as repair berths, and for mooring recreational craft, fishing vessels, barges, ferries, and government vessels. Depths alongside these facilities range from 10 to 40 feet. New London is a customs port of entry.
There are numerous small-craft facilities in Greens Harbor and Shaw Cove.
Navigation:
Click the "Map View" button above to see a chart of this harbor.
New London Harbor, near the east end of Long Island Sound at the mouth of the Thames River, is an important harbor of refuge. Vessels of deep draft can find anchorage here in any weather and at all seasons.
New London is a city on the west bank of Thames River about 2.5 miles above the mouth. The town of Groton on the east bank is connected to New London by a highway bridge and a railroad bridge. The main harbor comprises the lower 3 miles of Thames River from Long Island Sound to the bridges, and includes Shaw Cove, Greens Harbor, and Winthrop Cove. It is approached through the main entrance channel extending from deep water in Long Island Sound to deep water in the upper harbor. The harbor is generally used by vessels drawing 9 to 30 feet; the deepest draft entering is about 36 feet.
Greens Harbor, a small-craft shelter just north of the entrance, has general depths of 6 to 17 feet.
New London Coast Guard Station and Fort Trumbull State Park are on the west side of the main channel northward of Greens Harbor.
Shaw Cove is a dredged basin about 0.8 mile northward of Greens Harbor. In 1986, the controlling depth was 15 feet in the entrance channel through the south draw of the bridge, thence depths of 11 to 15 feet were available in the basin. The railroad bridge over the entrance has a swing span with clearances of 6½ feet.
Winthrop Cove, northward of Shaw Cove, is part of the main waterfront channel. The fixed railroad bridge near the head of this cove has a clearance of 4 feet.
Prominent features
New London Ledge Light (41°18'21″N., 72°04'39″W.), 58 feet above the water, is shown from a red brick building on a square white pier on the west side of New London Ledge; a sound signal is sounded at the station.
Other prominent features in approaching New London Harbor are: New London Harbor Light, on the west side of the entrance channel; the monument at Fort Griswold; the microwave tower atop a building in downtown New London; the large sheds at the shipyard on the east side of the river opposite Fort Trumbull State Park and the highway bridge at New London.
Channels
A U.S. Navy project for New London Harbor provides for a channel 40 feet deep to Fort Trumbull, thence 38 feet to State Pier No. 1, thence 36 feet to the U.S. Navy Submarine Base. A Federal project provides for a channel 23 feet deep in the waterfront channels north of Fort Trumbull and in Winthrop Cove. Lighted and unlighted buoys and a 354° lighted range mark the channel. The range does not mark the center of the lower end of the channel.
Pine Island Channel, northeastward of New London Ledge Light, between Pine Island and Black Ledge, has a rocky and very broken bottom on which the least found depth is 9 feet.
Dangers
On the west side of the approach to New London Harbor, foul ground extends about 1 mile from shore in the vicinity of Goshen Point. The southerly and southeasterly limits of this area are marked by buoys. The area has numerous rocky patches and boulders, some showing above water, and should be avoided by small craft. Rapid Rock, marked by a buoy on its southeast side, is about 1.6 miles southwestward of New London Ledge Light; it has a least depth of 10 feet. An unmarked ledge covered 35 feet is about 100 yards south by eastward of Rapid Rock and is the outermost shoal to the southward. Sarah Ledge, 0.7 mile northeastward of Rapid Rock and marked by a buoy, has a least depth of 14 feet and is the easternmost shoal on the west side of the main channel approach.
On the east side of the main channel foul ground extends about 1 mile offshore. New London Ledge, marked by New London Ledge Light, has a least depth of 7 feet. Black Ledge, just to the northeastward of New London Ledge, has a rocky islet, 2 feet high, on it. Depths are 5 to 18 feet on the ledge. Buoys mark the shoal area.
Broken ground fringes the shore southwestward of New London Harbor Light. A rock with 3 feet over it is located about 0.1 mile from shore in the bight just southward of the light and shoal soundings extend as far as 0.2 mile from shore where an 8-foot sounding is located.
White Rock, an islet in Greens Harbor, is 250 yards from the 18-foot curve on the western edge of the channel. Hog Back, a small ledge awash at low water, is 150 yards southwestward of White Rock and about 0.3 mile from the western shore, and is marked by a buoy. Rocks, covered 2 to 6 feet, are in the middle of the northern part of Greens Harbor. Melton Ledge, northward of White Rock, with one-half foot over it, is 125 yards eastward of Powder Island and is marked by a buoy; a rock awash is close westward of Melton Ledge.
Bridges
Four bridges cross the Thames River below Norwich: three near Winthrop Point and one about 0.2 miles southward of Fort Point. The first is the railroad bridge, which has a vertical lift span with authorized clearances of 29 feet down and 135 feet up. The bridgetender of the railroad bridge monitors VHF-FM channel 13; call sign KT-5473. In 1998, it was reported that cross currents of 1 to 2 knots can be encountered in the vicinity of this bridge. Just above it are two high-level fixed bridges with clearances of 135 feet, and 7.9 miles farther up the Thames is a fixed highway bridge with a clearance of 75 feet.
SEE MORE
Coastal News Updates See All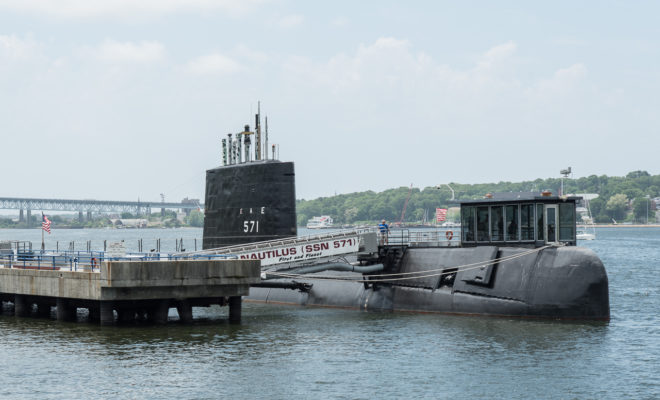 In 1951, Congress authorized the building of the world's first nuclear-powered submarine. Given the name… More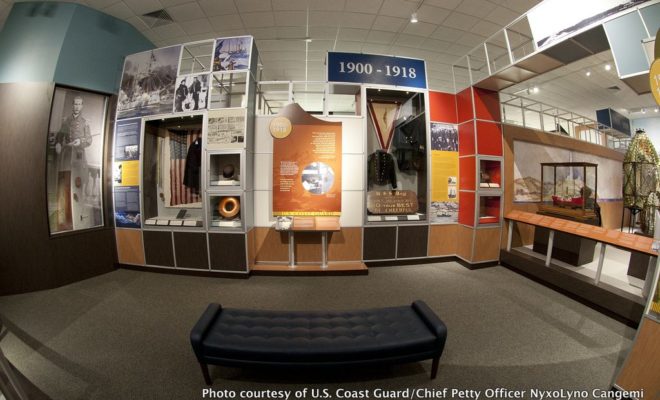 The U.S. Coast Guard Museum at the U.S. Coast Guard Academy in New London is… More