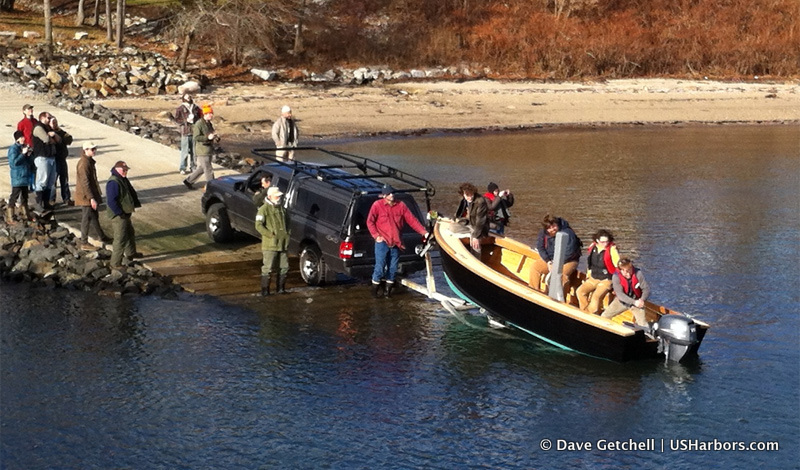 Winter is only a week away, but the industrious student craftsmen and craftswomen at the Apprenticeshop in Rockland, Maine, took advantage of an unseasonably warm afternoon December 16 to launch six boats built or restored recently. Never mind the stiff west-northwesterly breeze that was gusting to twenty-five knots and made the day seem far chillier than it was — seeing the pride on the faces of the apprentices as their creations slipped into Penobscot Bay warmed everyone in the large crowd assembled on the Apprenticeshop's pier.
The launches included:
-A 12′ Barnegat Bay Duckboat designed by Phil Clarke and built by Matt Costa, Jared Huffman and Hobbs White. To download an article by USHarbors Executive Editor Joshua Moore about the resurgence of Duckboats in New Jersey, click here.
-A Light Station Peapod
-A 17′ work skiff designed by Camden designer Mark Fitzgerald and built by Matt Dirr, Sophie Meltzer, Duncan Macfarlane and Jeff Steele
-A 12′ Susan Skiff built by Simon Jack and Timothy Jacobus
-A 12′ Susan Skiff built by Josef Eggert and Josh Robinson
-A 21′ Alden Indian centerboard sloop, restored after several years at the Apprenticeshop by Kit Macchi, Alex Roderick, and Drew Scott
For more information about the Apprenticeshop, click here.