Hinckley Heats Up the Coast With Launch of New T48
Posted by US Harbors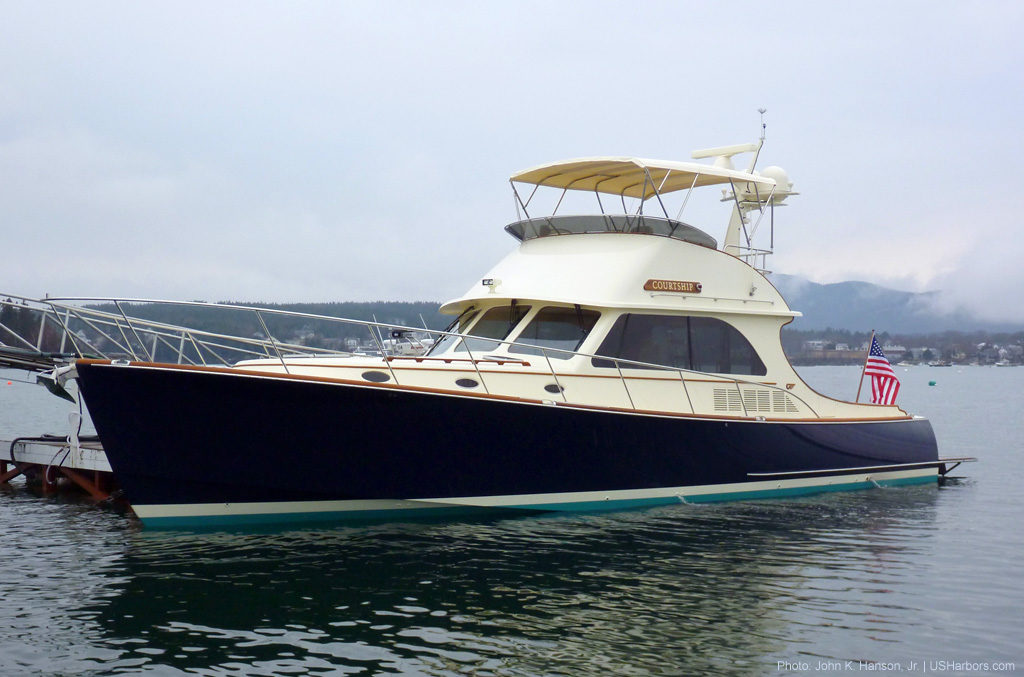 Never mind that silly groundhog and his shadow, the real signal that winter will come to an end eventually is when the first boat of the year hits the water. The Hinckley Company gave us all hope for boating days ahead with the launch on February 1 of the first of its new Talaria 48 motoryachts.
Courtship, a flybridge model of the new line (which is actually just over 51 feet LOA), was christened under cloudy skies as a bitter west wind blew across Southwest Harbor. Despite the inhospitable conditions, Hinckley crews wasted no time getting the yacht underway, bringing Maine Governor Paul LePage along for a quick run up Somes Sound. Courtship's twin Cummins diesels easily get the yacht up to its cruising speed of 30 knots, with top speed expected to be in the mid 30s. Hinckley's famous Jet Drive system makes steering the Talaria 48 as simple as controlling its much smaller and more famous sibling, the Hinckley Picnic Boat.
The Talaria 48, which sells for $2.2 million, will be unveiled to the public at the Miami International Boat Show on February 16-20. Those wishing to examine the yacht up-close and personal at the show will be shuttled to a viewing area — in a Hinckley Picnic Boat, of course.
For full specifications and more images of the Talaria 48, click here.