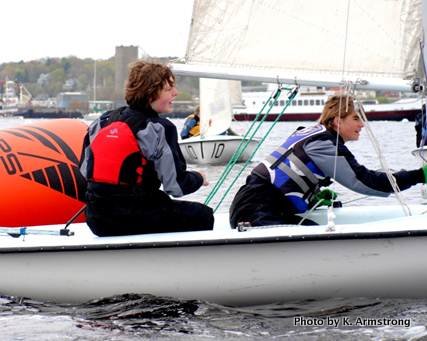 The spring sailing season is right around the corner, and Rockland Community Sailing's High School Sailing Team is hosting a Spring Kickoff meeting for students interested in joining the fun and fast growing sport of sailing. The kickoff will be held Thursday, March 29, at 7 p.m. in The Apprenticeshop office building, 643 Main Street, Rockland, located across the street from Dunkin Donuts.
Mid-coast area students, grades 7-12, and their parents are invited to attend the event to learn about high school sailing activities and how to get involved. The RCS HS team practices in Rockland Harbor on 14-foot, two-person fiberglass 420 dinghies during spring and fall seasons. Spring practices are Tuesday and Thursday afternoons from April 10 through May 17 (6 weeks). The team also plans to participate in seven regattas this season. New this year will be the team's first ever night sailing practice on April 26. The boats and sailors will be festooned with flashlights, glow sticks, strobes and other illuminating devices as they sail under the stars from 6-9 p.m. No experience is required to join and the team finishes the year with a bonfire and awards party on May 24.
Practices are coached from safety motor boats by Patrick DiLalla, former Head Instructor at RCS. More than one hundred and fifty students from Rockland, Camden, Thomaston, and Medomak Valley schools have sailed with the team since it began in 2004. The team races against sailors from all over the northeast and travels to regattas along Maine's coast including Maine Maritime Academy in Castine, Bowdoin College in Brunswick, and Portland. This May the team will host the "2nd Annual Breakwater Blast HSS Regatta" involving eight teams and nearly fifty sailors racing in Rockland Harbor.
High School Sailing has existed since the 1930's, but has experienced considerable growth in the last 30 years. The Interscholastic Sailing Association governs HSS in the United States, includes 350 teams nationwide, and hosts national championship races in both two-person and single-handed boats. There are approximately 85 teams in New England and 15 active teams in Maine.
Rockland Community Sailing has been teaching adult and youth sailing lessons for 14 years at The Apprenticeshop, a nonprofit school teaching traditional boatbuilding and seamanship. Since 1972, the organization has offered hands on programs dedicated to inspiring personal growth through craftsmanship, community, and the traditions of the sea. Boatbuilding and sailing courses are offered throughout the year at our Rockland waterfront campus. Youth sailing scholarships are available. Call KC Heyniger at 207-594-1800 or visit www.apprenticeshop.org for more information.