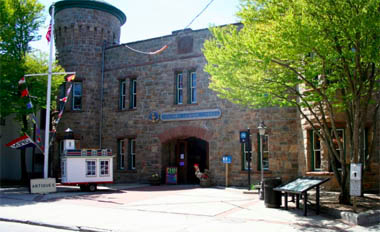 The City of Newport's new Maritime Center is scheduled to open in late May. Located in the historic Newport Armory, the $1.46 million facility is owned by the City of Newport and the project has been in the planning stages since 2008. Designed for transient boaters, the aim is to provide all the necessary amenities visitors require to make their stay in the harbor an enjoyable experience.
The Armory, erected by the State of Rhode Island to house the R.I. Militia in 1884, is located at 365 Thames Street, in the heart of the harbor and waterfront business district. The Maritime Center project, designed by Torrado Architects, has rehabilitated 8,000 square feet of the building, creating a public boating facility with entrances at Thames Street and the public Ann Street Pier. Facilities will include storage lockers, restrooms and showers, laundry, vending machines, a lounge with charts and internet access, a concierge/information desk, and office space for the facilities manager, and display cases for local attractions' brochures.
The adjacent Ann Street Pier will offer public dockage for vessels up to 40 feet, a dinghy dock, pumpout facility, trash disposal, and a stop for the Harbor Shuttle.
Financing for the Maritime Center came from a $713,000 Boating Infrastructure Grant Program grant from the U.S. Fish & Wildlife Service, cash contribution from the City of Newport ($140,000) which has also donated the value of the building and property, the Newport County Convention and Visitors Bureau, the Newport Restoration Foundation and Bowen's Wharf Company. Mayor Stephen Waluk said, "These funds have offered us the opportunity to provide visiting boaters upgraded harbor facilities that will maintain Newport as the sailing capital of the world."
The Maritime Center will be administered by Newport Harbormaster Tim Mills and managed by his assistant Sara Schroeder. Hours of operation will be daily 7 a.m. to 8 p.m. from Memorial Day to Columbus Day. Boaters can contact the Center on VHF Channel 09, telephone 401-845-5870, email at [email protected], or online at www.newportmaritimecenter.com.