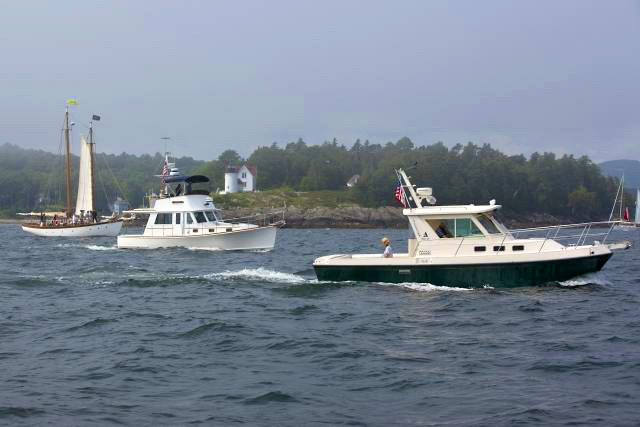 Ben Ellison, owner and editor of the on-line marine electronics blog Panbo, has signed on as the Power Boat Fleet Guide for the 2012 Penobscot Bay Rendezvous August 16-19. Ellison, aboard his 37' Duffy Gizmo, will be the go-to-guy for the weekend's powerboat owners and guests. An expert in many things, Ellison knows Penobscot Bay as well as anyone and is putting together some great Photo Pursuit courses that will take the group to perhaps some new territory. What is a Photo Pursuit, you ask? Click here to find out.
Presented by Wayfarer Marine and Lyman-Morse Boatbuilding, last year's inaugural event was just what the organizers, participants, and sponsors hoped for: great weather for racing and power boat events, a fantastic mix of sail and power boats, and three nights of fabulous parties.
The 2012 Penobscot Bay Rendezvous will adhere to a similar format of three days of on-the-water events for the fleet of power and sailboats. The power and motor yachts will take off on a Photo Pursuit on Friday and Saturday. This is not a race; rather, each powerboat will be given a list of well-known Penobscot Bay landmarks or features to photograph. The event will combine the navigation skills and creativity of our power fleet. The images will be shown each night. A panel of professional photographers and other distinguished judges will judge the work and awards will be presented to the top three photographers at Awards Ceremony on Sunday. What powerboat event would be complete without a Poker Run? Cards will be left at various local establishments and can be collected throughout the weekend. Hands will be dealt on Sunday before the Awards Ceremony.
A welcoming dinner kicks off the event on Thursday at Lyman-Morse Boatbuilding in Thomaston. Stanley Paris, the owner of Kiwi Spirit, will give a talk about his plans to break Dodge Morgan's round the world record and PBR guests will be among the first to see Kiwi Spirit. Fireworks over the St. George River will cap off that night.
Rockland is the center of attention on Friday, with both the sail and power boat fleet starting in Rockland Harbor. The Pearl is the location for post-race celebration and that evening the sail and power fleet will overnight in Rockland.
Saturday's destination is Camden Harbor. Stephens Waring Yacht design will once again have one of their designs dockside for guests to view during the cocktail hour. Wayfarer Marine will host the night's surf and turf dinner dance. After dinner, guests will dance the night away to the seven-piece dance band Groove Authority.
Penobscot Bay Rendezvous, Maine's newest sailing and power event, is presented by Lyman-Morse Boatbuilding and Wayfarer Marine and these terrific sponsors: Allen Insurance and Financial, HUB International, Merrill Lynch Wealth Management, Point Lookout, Stephens Waring Yacht Design, Billy Black Photography, Cruising World Magazine, Maine Boats, Homes & Harbors, Penobscot Bay Chamber of Commerce, Points East Magazine, and Yachting Magazine.
To register for the 2012 Penobscot Bay Rendezvous, click here