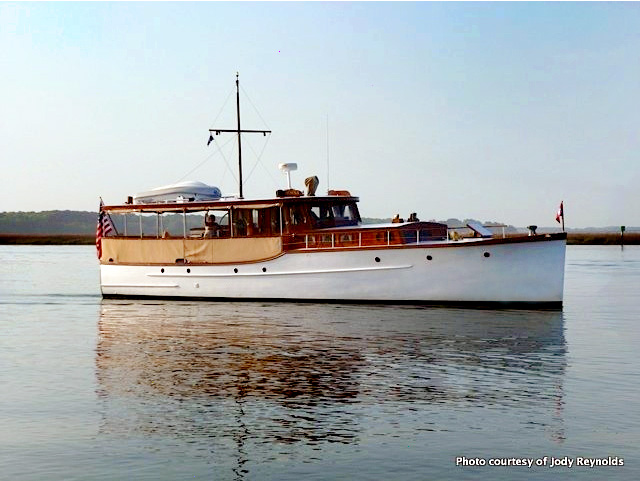 A piece of history is docked at the Little Egg Harbor Yacht Club in Beach Haven, New Jersey. She is headed up to the 1,000 Islands, along the U.S./Canada border, with her congenial, capable owners Mike Wright and Jody Reynolds at the helm.
If the Jersey Shore weather clears up a bit, she will be in Bay Head, New Jersey, this evening. If not, it is just another day for them with their two dogs. Living aboard a classic, impeccably restored yacht is a way of life for Jody and Mike. Their passion for a yachting style of life long gone has captured the hearts of thousands who have either chartered with them or met them along the waterways of the East Coast.
Hermione was their first oldie, a 56' Elco built in Bayonne, New Jersey, in 1925. Jody and Mike restored her, proudly showing her to anyone who stopped by. They spent the winter of 2010, one of the coldest on record in Southwest Florida, at the Useppa Island Club (south of Boca Grande and north of Sanibel and Captiva). Hermione's grace and grandeur was silhouetted against the buildings of the historic Useppa Inn and Dock Co. buildings. Rich Volpe portrayed her elegance on a video shown on YouTube. Sadly, Hermione was lost in a marina fire on the Pamlico River.
Distraught but not defeated, Captain Mike and First Mate Jody set out to find another piece of history. An extensive search resulted in Cygnus II, a custom yacht designed by naval architect Louis L. Kromholtz for Mr. Clifford Swan. This 56' motor yacht has a spirit about her. One can imagine the champagne (illegal of course, during Prohibition) flowing as Cygnus was lowered into the water at the Jakobson and Petersen Boat Yard in Brooklyn in 1930. Flapper girls, along with their "dates" … well, I needn't go too far here. Owning such a yacht was a sign of wealth not often seen in the 1920s, and much less so during the Depression and hard economic times of the 1930s.
Cygnus II was used as a service vessel during World War II, then enjoyed until she was in bad shape. Dave and Ruth Gillespie began her restoration in the late 1990s. Her original plans were on file at Mystic Seaport. She was purchased by Jody and Mike in June 2011. The rest is history come alive.
It is obvious with the first step aboard that this is an elegant yacht, complete with dark green leather settees, silver, bathtub, and stove from the 1930s. Owners and guest accommodations are large by today's standards. Brightly colored pillows, potted plants, and fresh flowers blend with stimulating conversation. If you want to know about historic yachts, every marina and restaurant along the ICW between the West Coast of Florida and the 1,000 Islands, Jody and Mike know the answer.
Cygnus II is available for charter at spots along Jody and Mike's route. For more information about this remarkable vessel, its crew, and their offerings, click here.