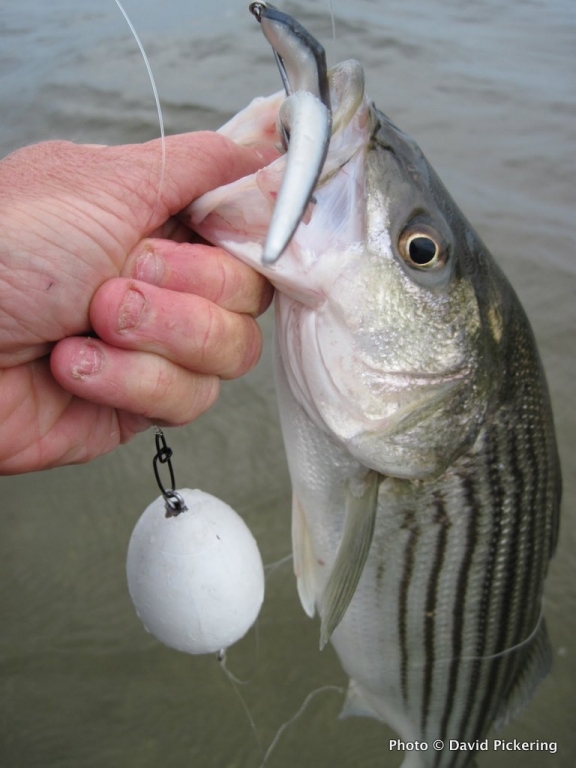 The last three evenings have featured some nasty weather with rain, thunderstorms, cold and wind. However, the fishing for schoolies has been real good in the Bay. I landed a total of 31 fish in the last three evenings. They ranged from tiny ones to fish of 24 inches. I got no keepers.
The hot ticket has been plastics. The three-inch Zoom fluke with a lightweight jighead has done most of the damage, but I also scored using a float and Slug-Go combo. If I had the choice I would much rather fish in nasty weather than beautiful sunny weather. The fish are far easier to fool and more active in the lousy weather. And, there are far less fishermen around.
If, however, the weather turns foul and you're just not willing to brave the elements, check out this week's issue (May 17, issue #20) of The Fisherman magazine. I wrote a feature article titled "Stripers on the Float 'n' Plastic," about one of the hottest artificial combos to use for stripers right now. The article outlines everything you need to know about fishing the float and plastic rig from rigging to actual fishing to spots this might work. It is one of the deadliest lure combos to catch stripers (schoolies as well as keepers) from shore, especially when fishing windy and rough conditions.
This article is the first of many that I will be writing for The Fisherman this year. I met the new editor, Toby Lapinski, at one of the big shows this winter and he told me he goes to my blog just about every day. He also said he read everything I wrote years ago when he started striper fishing. Well, I was flattered. So, when he asked if I had any ideas for stories for The Fisherman, I was quick to reply.
The Fisherman magazine is sold at numerous tackle stores around the state. For subscription info, call 860-572-0564.