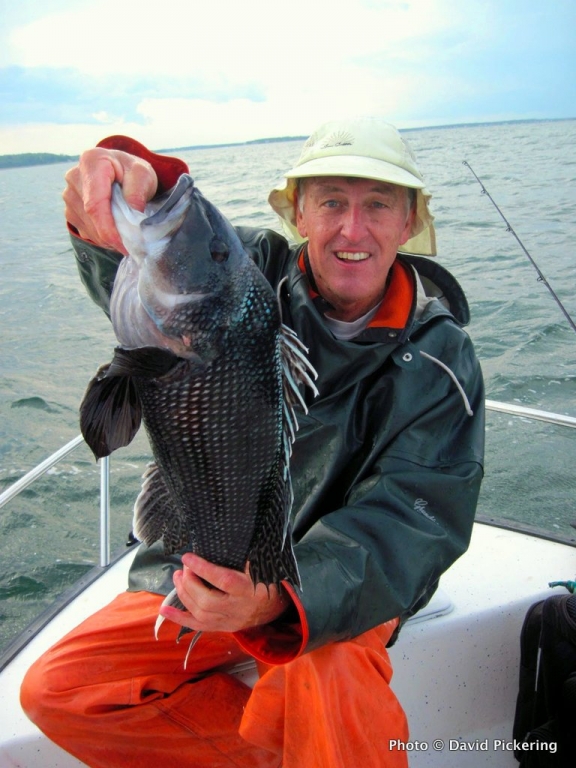 I'm moving around a lot more these days looking for fish. Yesterday, my brother Steven, my son Matt, and I went to Buzzards Bay in Steve's boat. There we caught tons of fish and landed five different species of fish. Boy, you certainly knew you were no longer in RI!
The afternoon started off with some rough water so we decided to take a run through the canal and try the east end near Sandwich. We got nothing there but found tons of big bass breaking in a spectacular display in the east end of the Canal where you could not fish from a boat. So, it was back to Buzzards Bay where we started jigging bucktail jigs. We started catching one good size black sea bass after another on just about every drift. Some of these were HUGE, going 5-6 lbs., maybe larger!
The best bet to catch these was to use a 1/2 oz. bucktail jig with a plastic curly tail and just drift and bounce the offering off the bottom. In all, we landed at least thirty-five black sea bass, with most of them keepers. In the mix we also landed some scup and two fluke.
From there we headed toward the boat landing in Wareham. On the way in we hit a massive school of stripers. It was wild, with birds diving, bait spraying, and fish breaking in a large area of the bay. Using Cocahoes on jigheads, we landed at least forty schoolies and a lone bluefish in less than an hour. The schoolies were all sizes, from small ones to near keeper size.
So, quite the afternoon/evening with five different species of fish and lots of them. Nothing in RI that I have seen in the last month could compare to the action we had today. Buzzards Bay turned out to be quite the place!