A New Adventure Begins for a Classic Fife Yacht
Posted by US Harbors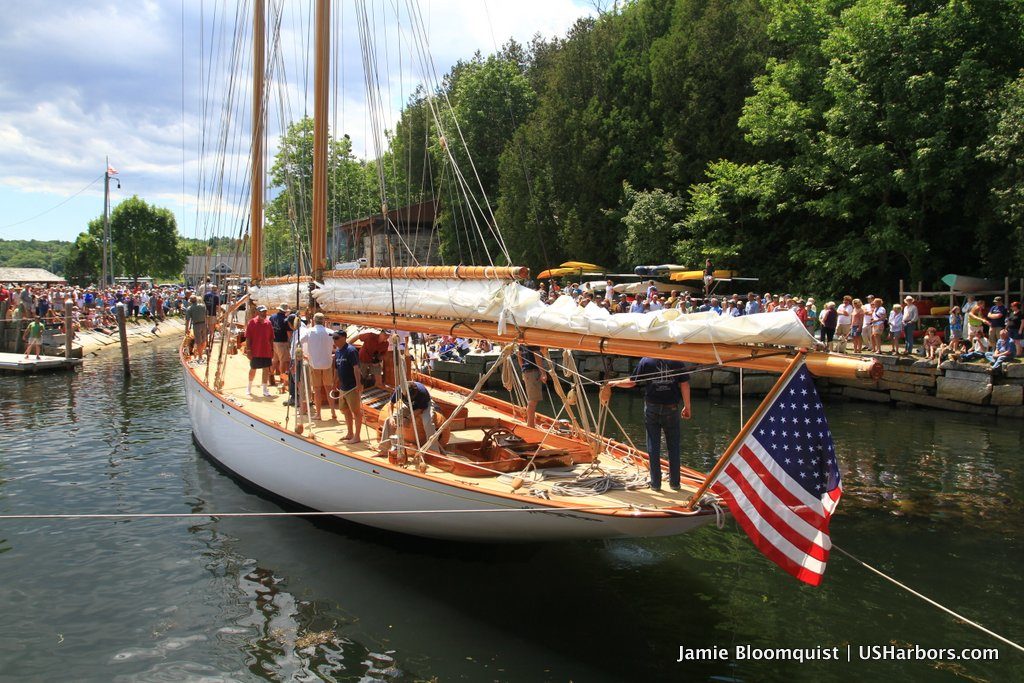 There's been plenty of ink and attention paid this summer to the ultramodern go-fast boats being built these days, so it's refreshing indeed when the sailing world turns out to honor the return of one of yachting's grand dames. That was certainly the case in Rockport Harbor on July 21 when everyone with seemingly even a passing interest in boats congregated at the mouth of the Goose River at high tide to watch Adventuress, an 83' Fife-designed and -built schooner slip back into the water after a three-year restoration.
One of the only large Fifes in North America (noticeably, her closest relations are probably Sumurun and Belle Aventure, both of which are currently tied up only a few miles away at Wayfarer Marine in Camden), Adventuress had an adventurous life before arriving at Rockport Marine in 2009. Originally built as a Bermudian schooner for the heir of a Scottish family who made their fortune manufacturing weaving looms, the yacht was early-on reported to house the ghost of its first captain. Adventuress was then sold and commandeered by the Germans during World War II. Her brief military career ended when she was scuttled at the entrance to the harbor at Ville Tranche sur Mer, spending several years on the bottom there. When raised, she was given the ketch rig that she still sported when she arrived in Rockport.
Over the past three years, Taylor Allen's crew has literally rebuilt Adventuress from stem to stern — and above. Her backbone was replaced, as were her double-sawn framing, which dovetail into the keel. New bronze floors were installed to give the yacht as solid a structure as she's had since first sliding off the ways in Fairlie, Scotland, 88 years ago. Her interior was completely redone to the absolute highest standard, and the yacht was given an entirely new gaff schooner rig. She is, without doubt, once again one of the most impressive yachts afloat anywhere in the world.
Adventuress has a busy summer ahead; only a few days after her launching she is scheduled to appear alongside Belle Aventure and Sumurun at the Fife Symposium in Castine on August 1 and the Eggemoggin Reach Regatta in Brooklin on August 4, followed shortly thereafter by an appearance at the Maine Boats, Homes & Harbors Show in Rockland on August 10-12 (where she'll be open to visits by show attendees). She'll then head to the Opera House Cup in Nantucket on August 19 and the Newport International Boat Show on Sept. 13-16.
If you get the opportunity to see this grand dame of yachting's golden age in person, do it. In the meantime, here are a selection of images from her launch to help you enjoy this momentous occasion.