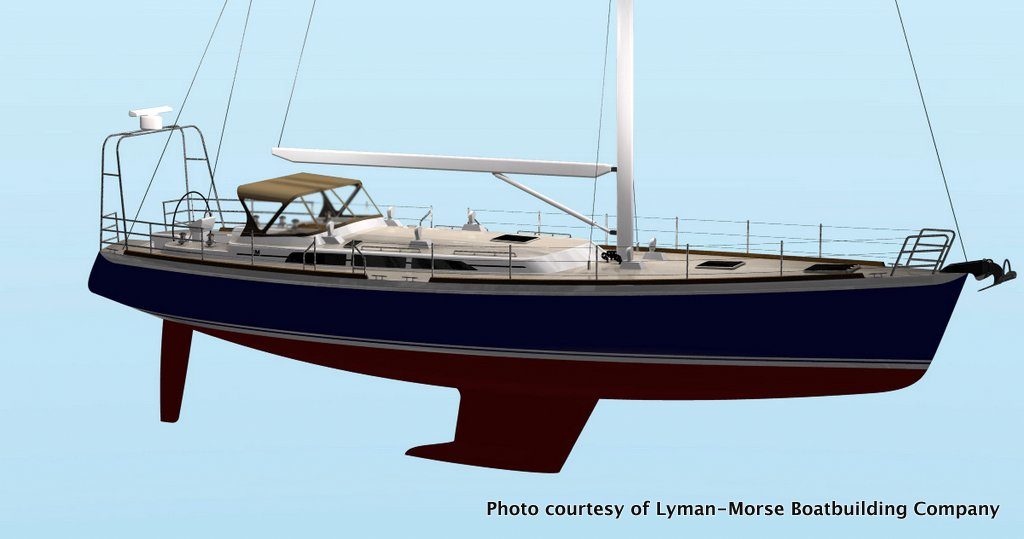 From the drawing boards of Chuck Paine and Ed Joy, Lyman-Morse Boatbuilding is proud to introduce the Lyman-Morse 55, the culmination of all the insight Cabot and Heidi Lyman have gained from circumnavigating the globe with their children, as well as building over 100 boats and maintaining many more. Adding the experience of the designers, there are more than 250,000 ocean miles in the wake of the team behind this remarkable new yacht.
The Lyman-Morse 55 is designed and built to go to sea – and looks the part. An accomplished sailor will recognize that every detail has been conceived and executed with the needs of those who venture offshore. Moderate in displacement, the hull shape provides a fine entry at the bow, a midship section for maximum stability, and a stern that makes for an exhilarating turn of speed in a strong following breeze. Logbook entries showing 200-mile days will not be uncommon.
Whether on a short day passage or venturing to a remote destination, the crew of the Lyman-Morse 55 will be secure in the knowledge that their boat will take care of them during the most inclement weather, while also moving with alacrity when the breeze is light and on the nose. Built of rugged resin-infused fiberglass to the high standards for which this American yard is known, this is a yacht that will still be structurally sound after a decade of offshore sailing. CE Category A requirements are exceeded without the use of exotic materials that both unnecessarily add to the boat's cost and are also extremely difficult to repair in remote places where the Lyman-Morse 55 will go.
The mechanical and electrical systems are simple, efficient and, most importantly, reliable. A cruising destination should be selected for its appeal, not because the latest DHL package containing repair parts awaits there. Complexity and quality are not the same.
The bright and open interior is laid out for both safety offshore and livability in port. Materials are selected for high quality and durability. The joinerwork is skillfully assembled by Lyman-Morse's experienced craftsmen. The attractive finishes are easily maintained, leaving more time for cruising and exploring and making for fuss-free transitions from port to passage.
With the many years of developing, building, maintaining and sailing offshore yachts that are in each Lyman-Morse 55, we think you will agree that she is a truly unique achievement in safety, performance, comfort and value.
A sailor since childhood, Ed Joy has enjoyed a twenty-five year career that has taken him to many interesting corners of the yacht industry. After graduating from Georgia Tech, he held design positions at prestigious companies such as Windship, Sparcraft, Palmer Johnson and Intermarine, which led to an 11 year run as senior sailing yacht designer at Chuck Paine Yacht Design. Upon Chuck Paine's retirement, Ed Joy Design was established to continue creating the graceful, seaworthy and innovative yachts that have made the Paine office famous for three decades. Ed's experience has given him an understanding of the overall broad scope of a project as well the details that make a yacht a pleasure to own rather than an endless maintenance headache.
Lyman-Morse 55 Principal Dimensions:
LOA: 56'-0"
LOD: 54'-5"
LWL: 46'-11"
Beam: 15'-3½ "
Draft: 7'-6" or 6'-6" (shoal draft option)
Displacement: 45,000lb
Ballast: 16,400lb
Sail Area: 1,479 sq. ft.
Bridge Clearance: 78'-6"
Sail Area/Displacement Ratio: 18.73
Displacement/Length Ratio: 194
Auxiliary Power: Engine: Perkins M92B [email protected]
Marine Gear: ZF 45A 2.43:1 reduction
Fuel Capacity: 185 gallons
Water Capacity: 310 gallons
For more information about the Lyman-Morse 55, click here.
For more information about Lyman-Morse Boatbuilding Company, click here.