After Refit, Stoneface Returns to Penobscot Bay
Posted by US Harbors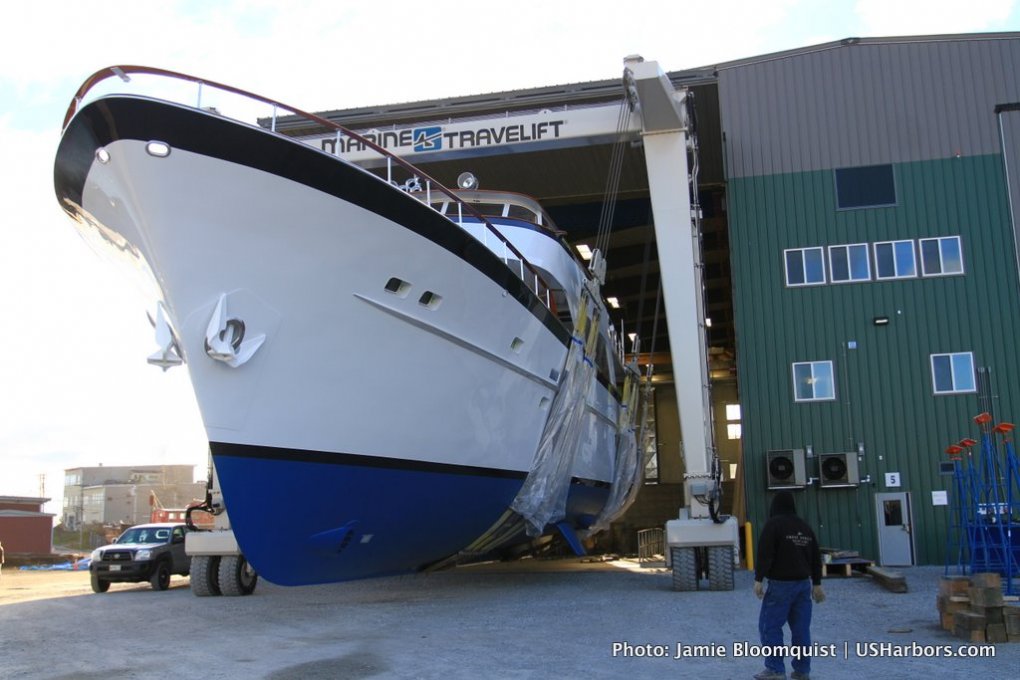 We've said it before, and we'll say it again: The best part of publishing USHarbors is meeting the creative men and women who make their living on the coast. We get to witness firsthand the unveiling of their hard work, whether it's a new coastal home, a stunning seascape, or a gorgeous yacht. So we didn't mind a bit that temperatures were hovering at almost exactly thirty-two degrees on the morning of November 25 when the 106-foot motoryacht Stoneface left Building 5 at Front Street Shipyard and hit the waters of Penobscot Bay after a year-long refit. Even the brisk northwest wind and chilly temperatures did little to dampen the spirits of the yard crew and onlookers who came down to the shores of the Passagassakeag River to watch the launch.
Stoneface, originally launched in 1978 by the Burger Boat Company, was Front Street Shipyard's first large project and involved a complete restoration that included a new interior, new engines, and a full systems upgrade. As these photos and a video from the launch show, Stoneface is essentially a brand-new yacht after her time in Belfast.
The yacht will spend a few more weeks at Front Street Shipyard, undergoing final tests and tweaks, before heading south to Florida and the Bahamas for the winter.