America's Cup World Series Generates $38.2 Million for RI
Posted by US Harbors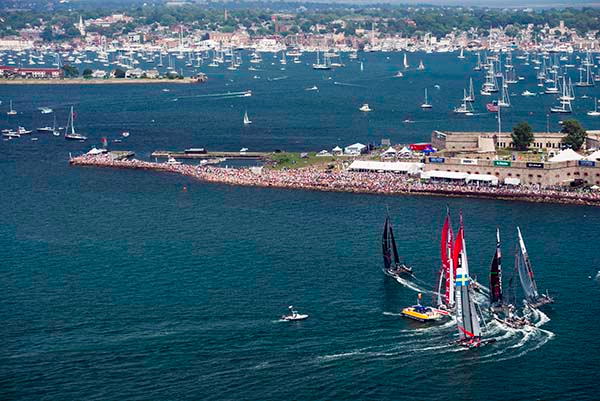 The Rhode Island Economic Development Corporation has released the "Large Marine Events Benefits Assessment Modeling Report" detailing the economic and fiscal impact on the 2012 America's Cup World Series (ACWS).
The study was initiated to analyze the fiscal impact of the ACWS and act as a learning tool to help the state prepare to host similar large marine events in the future. The feedback came from Q&A of visitors over nine practice and racing days at Fort Adams State Park.
Three immediate numbers of economic impact resulted in:
– $38.2 million for Rhode Island businesses
– 345 jobs with an income of $12 million
– $2.5 million in general state tax revenue
Other important numbers in the report include the confirmation that 65,000 total spectators visited the event during the four-day long weekend. Over 7,000 of those visitors had never visited RI before. Also, spectators came from 41 U.S. states and 18 countries.
"There was nothing quite like seeing the throngs of people lining both sides of the East Passage enjoying the spectacular America's Cup World Series races," said Department of Environmental Management Director Janet Coit. "Fort Adams State Park offered a world-class venue for this event, and the natural resources of Rhode Island provided the power and the beauty that put it over the top. Using our state parks to host tens of thousand of visitors to enjoy a day on our coast is exactly what DEM hopes to continue to do," she added.
For the full 2012 ACWS Economic Impact Report, click here.