Some people might think it's the perfect vacation. Chesapeake Light Craft, the boat kit experts, has a long history of offering aficionados of elegant small wooden boats the opportunity to bring home more than a tan and some photographs from a week away from the office.
With the addition of two new sessions in the San Francisco Bay area to its nationwide lineup, would-be boatbuilders can spend a week participating in one of CLC's new build-your-own-boat classes at the Spaulding Wooden Boat Center, in Sausalito, in June — and go home with a 17-, 18-, or 19-foot boat, instead of less tangible mementos of lolling on a beach or hiking at a mountain resort.
In CLC classes, talented professional instructors help students assemble their own boats from start to finish. Each class session starts on a Monday morning; by noon Saturday, participants head home with a completed boat ready for finish work, varnish, paint, and rigging.
Students in the Sausalito classes can select one of CLC's most popular small craft designs. The Northeaster Dory, scheduled for the week of June 9-14, can be fitted for rowing or sailing. It's a capacious, stable boat with a substantial payload for passengers or gear for camp-cruising and adventuring.
Enthusiast rowers should set aside the week of June 16-21 to build their own Annapolis Wherry. Students can choose between the 17'9″ Annapolis Wherry and the 19'10" Annapolis Wherry Tandem. Both Wherries are exceptional rowing trainers, exercise boats, and open-water racers.
These two classes will be held at the Spaulding Wooden Boat Center, a nonprofit organization dedicated to preserving, sharing, and celebrating the area's rich history of traditional wooden boatbuilding. With its 20,000-square-foot working wooden boatbuilding facility, historically significant sailboats, and skilled craftspeople, SWBC programs are designed to connect people of all ages to the Bay Area's maritime history, historic sailing vessels, and the art of wooden boatbuilding. The new classes add to CLC's geographic range, which already includes classes in Annapolis, Maryland; Brooklin, Maine; Cedarville, Michigan; and Port Townsend, Washington.
CLC boatbuilding classes have launched more than a thousand wooden boats and introduced thousands of students to the joys of boatbuilding. CLC has been hosting and teaching build-your-own-boat classes since 1994.
CLC's precision-cut boat kits are intended for first-time boatbuilders working at home — more than 30,000 completed CLC boats are on the water — but a classroom setting has its advantages. Students work in a well-equipped shop with a professional boatbuilder at their side and enjoy the positive energy (and extra hands) of a group setting. Helpers are encouraged, and classes are a rewarding and memorable parent-child or family experience.
Those unfamiliar with modern wood-epoxy composite boatbuilding can watch examples of these week-long classes condensed into ninety-second timelapse videos; click here to watch the videos.
Tuition for the week costs $850 and the boat kits range from $1,395 to $1,529. More information on Chesapeake Light Craft's Build-Your-Own Boat classes can be found at clcboats.com/classes, or by calling 410-267-0317.
Chesapeake Light Craft Schedule of Classes in Sausalito:
•Build Your Own Northeaster Dory, June 9 – 14, 2014
•Build Your Own Annapolis Wherry, June 16 – 21, 2014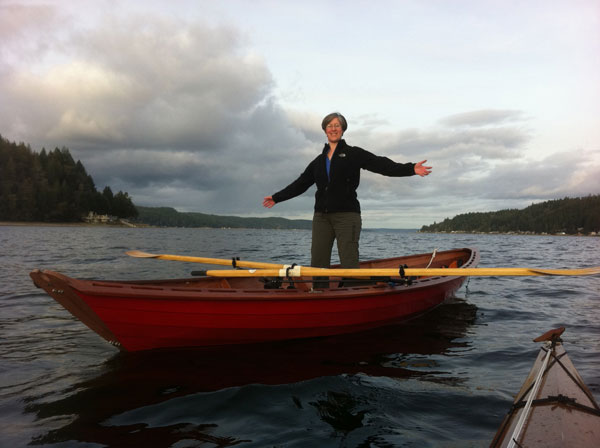 Photos of The Ultimate Vacation: Boatbuilding in Sausalito