Hunt Yachts Opens Sales, Service Office in Stuart
Posted by Hunt Yachts
Hunt Yachts is proud to announce the appointment of Capt. Sean P. Hickey as Regional Sales Director for the southeastern U.S. and the opening of the new Hunt Southeast Sales & Service Office in Stuart, on Florida's Treasure Coast. This expansion is part of the strategic plan developed following Hunt's acquisition by Scout Partners, parent of the Hinckley Company, in September 2013. The new Hunt office is within the Hinckley Stuart Service Center, renowned for excellent service, repower and repair to mariners for decades.
Capt. Sean Hickey was raised on the South Shore of Long Island, New York. He spent his summers on the Great South Bay, where he developed his passion for boating and sailing. He sailed competitively for many years, winning the Long Island championship at the age of 17. In the early 1990s, he acquired his U.S. Coast Guard 100-ton Masters license and worked his way through school running small cruise ships and charter boats, as well operating and maintaining private yachts. The father of two, Capt. Sean comes to Hunt Yachts with more than 27 years experience in the marine business. He has managed successful boat dealerships as well as worked for boat manufacturers including Mako Marine, Scout Boats, and most recently, Everglades Boats. Capt. Sean will draw from his experience in all aspects of the marine business to add to the Hunt Yachts buying experience.
Capt. Sean is based in Hunt's new Stuart facility, which is located in historic Manatee Pocket at Florida's "Yachting Crossroads" near the confluence of St. Lucie Inlet, the Intracoastal Waterway, and the Okeechobee Waterway, making it accessible from both Florida's Atlantic and Gulf coasts. The new office will represent Hunt's entire line of new yachts from 24 to 80 feet, offering a convenient showroom facility for those who do their yachting in Florida seasonally or year-round. In addition, Capt. Sean will travel to boat shows throughout the Southeast to display the latest Hunt models. Upcoming shows include the Suncoast Boat Show in Sarasota on April 25-27.
"After 29 years in the boating industry, I now have the opportunity to work with a legendary boat design and manufacturing firm in one of the world's premier boating communities," says Hickey. "I look forward to the unlimited potential of combining Hunt Yachts, Hinckley Service and this great market."
In addition to sales, Hunt's Stuart office will provide service support to owners of its yachts throughout the Southeast. The boatyard features the following facilities and capabilities:
•Lifting capacity up to 150 tons
•20,000 square feet of indoor workspace (36-foot inside clearance)
•Outdoor storage for 150 yachts
•80 fully equipped marina slips
•Expert painting
•Marine carpentry
•Mechanical repairs
•Electrical systems
•Fiberglass and composites
•Marine electronics
•Canvas and boat upholstery
•Rigging services
•Marine refrigeration and air conditioning
•Spar repair
•Hurricane storage to 65 feet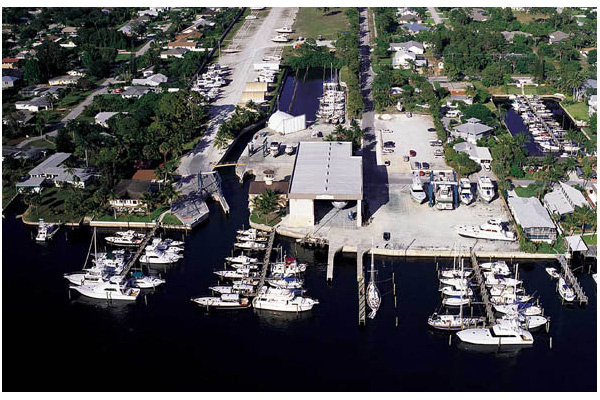 Photos of Hunt Yachts Opens Sales, Service Office in Stuart