Cabot Lyman, owner of Lyman-Morse Boatbuilding Company, and his family have had a working relationship with designer Ted Fontaine for nearly thirty years. The relationship started in 1983 when Fontaine, while managing the Ted Hood Design Group, drew the lines for the 55′ ketch Janmar for a customer of Cabot's.
After completing Janmar, Cabot approached Fontaine to design the Sequin 49, an aft cockpit, shallow-draft centerboard ocean voyager. Three were built, including Cabot and Heidi Lyman's own Chewink, a boat built for him and his family to sail around the world with his young family. (In fact, Cabot and Heidi just returned from a month aboard Chewink in the Caribbean.)
In 1991, after returning from the family sailing sojourn, Lyman continued the relationship with the newly established Fontaine Design Group, collaborating on three highly respected cruising yachts including the building of the 60′ aft cockpit cruising sloop Windwalker. Upon completion of Windwalker, work commenced on building the composite hull, deck, and internal structure for Dana and Martha Robe's 65′ pilothouse sloop Sara Jane.
The last Lyman-Morse/Fontaine Design Group collaboration was the well-known Amelia. Launched in 2002, she is a 63′ center-cockpit pilothouse design. Featuring a shallow-draft keel centerboard hull form, Amelia is a fast and comfortable sailing platform.
We are pleased to announce that this proven and successful hull shape has been lengthened to 67' and is available now as a semi-custom series – the A2.
Built to Lyman-Morse's exacting standards, A2 will be fast, comfortable, and long-legged, destined for anything from high latitude adventure sailing to island hopping in the Med, Caribbean or Maine.
For more information about this exciting new project, click here.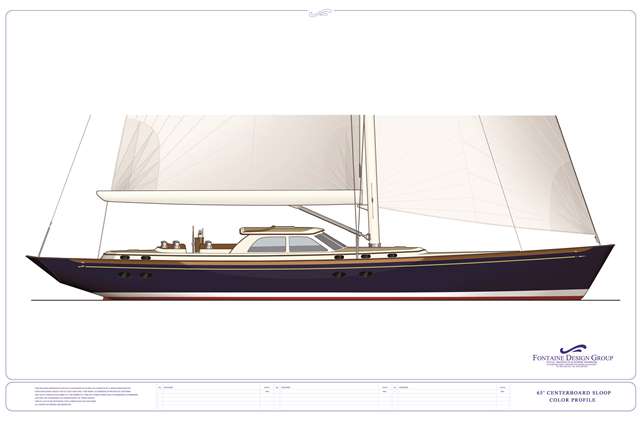 Photos of Lyman-Morse and Ted Fontaine Reunite for New Project