It's a springtime tradition: once the water of the Chesapeake Bay is warm enough to welcome small craft boaters, Chesapeake Light Craft, the boat kit experts, stages a two-day celebration of hand-built wooden boats known as OkoumeFest.
The event's name derives from the plantation-grown African hardwood used in thousands of CLC's build-your-own-boat kits, and OkoumeFest features a lot of it, along with cedar, mahogany, and other more exotic woods. On the Chesapeake Bay-side beach at Matapeake State Park, a staggering array of handsome wooden craft gleam under the sun, sparkling with drops of water as nearly all are repeatedly splashed into the water for paddling, rowing, or sailing.
OkoumeFest typically begins with an open house at CLC's Annapolis factory workshop on a Friday afternoon, complete with instructional seminars and a chance to discuss boatbuilding with fellow aficionados, capped off by a casual cookout and social hour. By Saturday morning, staffers will have transported nearly every demonstrator model — 50 boats or more — across the Bay Bridge to Matapeake, where hundreds of people of all ages come to try them out in the water. Visitors come from near and far, some traveling from as far away as New England, Florida, and the West Coast.
The lineup of boats also includes a substantial number of spectacular amateur-built craft, many of which took hundreds of hours to build and look like exotic furniture, almost too pretty to get wet or sandy. The builders bring these to show off and compete for prizes and bragging rights.
OkoumeFest 2014 is scheduled for Friday and Saturday, May 16-17. The open house, at CLC's headquarters at 1805 George Avenue in Annapolis, runs 1-7 p.m. on Friday, while the beach at Matapeake State Park is open for playing in the water from 9 a.m. to 5 p.m. on Saturday. All events are free and open to the public, but RSVPs are strongly encouraged. For more information, and to RSVP, visit www.clcboats.com/festival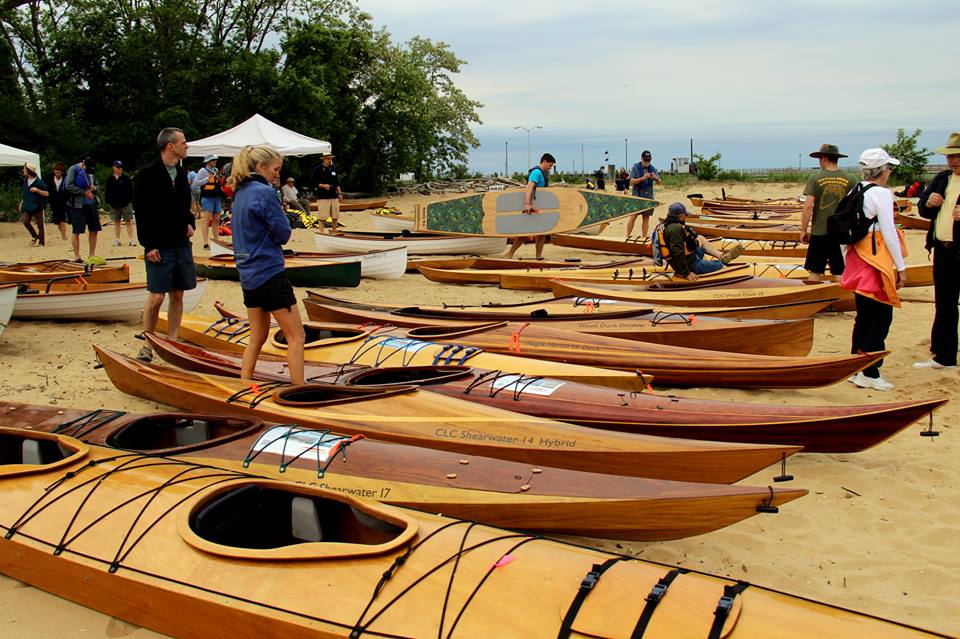 Photos of OkoumeFest: A Boatbuilder Rendezvous on the Chesapeake