Warming Waters Spell Blues and Schoolies for RI Fishermen
Posted by David Pickering
Last Updated
I fished upper Narragansett Bay this week and landed four schoolies that looked like clones — all in the 18-20-inch range. (They were all taken on Zoom flukes fished off a float.)
Last weekend, I went down to the Cape Cod Canal with my son Ben and we each got a schoolie. Friends went out on Monday night in the lower Bay and they caught schoolies. Another friend hit the Newport shore a week ago and caught schoolies.
Notice the trend?
Yes, schoolies dominate the striper scene from shore, but there are less of them than there were just weeks ago. Keepers continue to be scarce for shore fishermen. The water is warming quickly, and I suspect that even the schoolies are heading to deeper and cooler water.
As I said, last Sunday I went back to try the Cape Cod Canal. I haven't been doing well there fishing the daytime in past outings, so I figured I would try an evening/nighttime outing. It was the same results, with a lone schoolie of about 22 inches for my efforts. My son Ben also got a schoolie. When we left the canal shortly after dark there was not one fisherman left fishing. No one! I also spoke to a guy who fished in the daytime on both Saturday and Sunday last weekend, and he never saw a fish caught.
Bluefish are a different story. I fished in the evening on June 20 and found almost non-stop bluefish action in the Bay from shore. These fish were on the small side, running 2-4 pounds. They were very aggressive and would hit a surface offering over and over again until they had it. The best plug that worked for me was a Rebel Jumpin Minnow.
Water temperatures have shot up in the Bay recently due to the warm and sunny weather. In a lot of places surface water has jumped up to 70 degrees. That spells trouble for striper fishing (not that it was hot). At this time of the year stripers begin their exit out of the upper Bay waters and head to the deeper and cooler waters of the lower Bay and the oceanfront. If you are looking for stripers from shore or boat (good luck), I suggest looking in places like Jamestown, Newport, and Narragansett.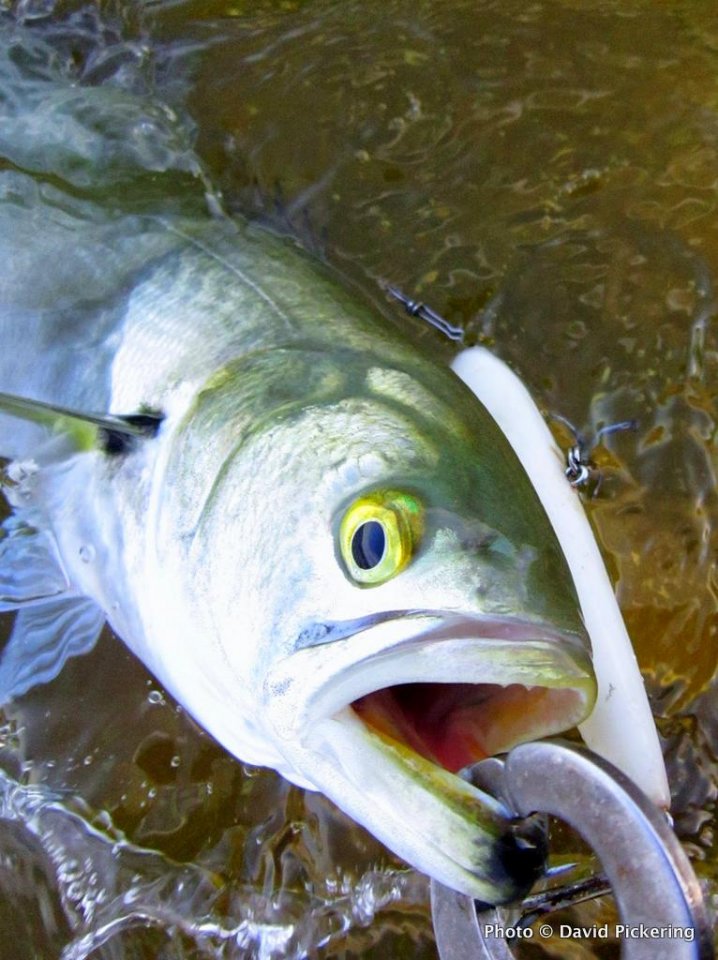 Photos of Warming Waters Spell Blues and Schoolies for RI Fishermen