THE ARTISAN BOATWORKS crew is delighted to be restoring
the unparalleled classic Sculpin—a 21-foot Herreshoff
Fish Class daysailer built exactly a century ago, in 1916.
What makes this project truly special is that we were
able to trace its provenance. Sculpin was part of a fleet raced
by the Seawanhaka Corinthian Yacht Club on Oyster Bay in
New York. The fleet was sold en masse—the builder's plates
removed, gaff rigs converted to Marconi—and new owners
selected by lottery. Without the plates, most of the boats'
original owners couldn't be traced.
Luckily Sculpin's plate remained intact, and her hull
number could be traced to the original owner, a family
named Remington—although it's unclear whether that's
typewriters or firearms. Her most famous owner was John
Foster Dulles, President Eisenhower's secretary of state.
By the time Sculpin arrived in our shop, more was missing
than intact. We're preserving as much original material
as possible, and replacing where needed to a historical style.
We're replacing the deck, frames, floor timbers, sheer plank,
and garboards. The stem, spars, and hardware are in good
shape. We'll
launch her at the Herreshoff
Marine Museum
in Bristol, Rhode Island
—the site of Herreshoff's
manufacturing plant—where she'll be displayed for several
months.
Our philosophy? If the original lasted 100 years, we
want our restored boat to last another 100 years.
ARTISAN BOATWORKS
410 Main Street, Rockport, ME 04856
207-236-4231
[email protected]
www.artisanboatworks.com
Excerpted from Boats of the Year 2016. Click here to read more stories from the latest edition.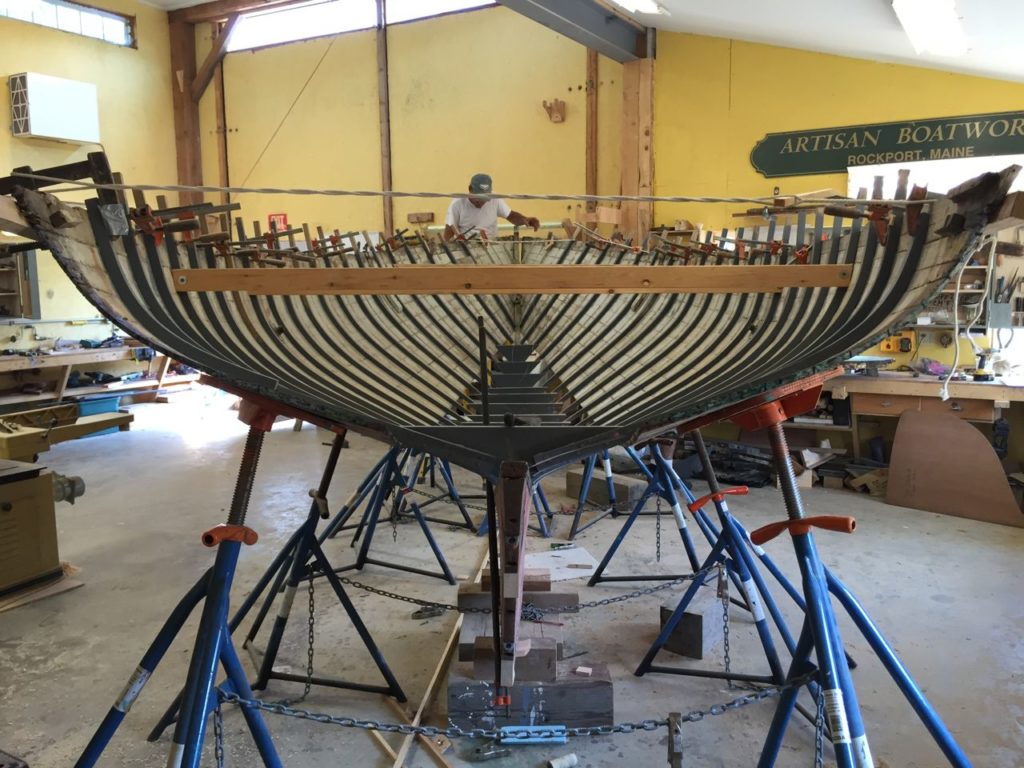 Photos of New Life For A Century-Old Classic