Sportfishing Dayboat: Farrin's Boatshop Hopes to Open New Market
Posted by Boats Of The Year
FARRIN'S BOATSHOP'S common sense approach to the
design of pleasure and work boats stems from our belief
that a boat should fit its owner's personal needs.
That was achieved when the yard launched Feelin'
Nauti, a 31-foot sportfishing boat built on an Eastern 31 hull
and using the Eastern deck and house unit. Bruce Farrin's
crew built the flybridge, installed the engine, drive-train, rudder,
and tanks, and built the custom interior.
"This was our first boat going to Bermuda, and we look forward
to possibly building more boats for the island," said Farrin,
who has more than 40 years in the boatbuilding business.
The project posed interesting challenges due to the power
provided by its turbocharged, 425-horsepower Cummins
QSB5.9 Tier II engine, plus increased windage posed by the
extra height of the hardtop bimini. Feelin' Nauti cruises at 18-
20 knots and hits 24 knots with the throttle pinned. Since it is
a day boat, accommodations include a cold-water galley with
microwave and coffeemaker, an enclosed head, and two V-settees
below. Arrangements above include the helm and
companion seats, settee, icebox, and a tackle station with custom
drawers, including a fold-down with customized knife storage.
There is a full electronics package below and on the bridge.
Also at Farrin's, a downeast-style
yacht built on a Lowell 43 hull will be fitted for fishing and
cruising the East Coast.
FARRIN'S BOATSHOP
19 Sproul Road, Walpole, ME 04573
207-563-5510
[email protected]
www.farrinsboatshop.com
Excerpted from Boats of the Year 2016. Click here to read more stories from the latest edition.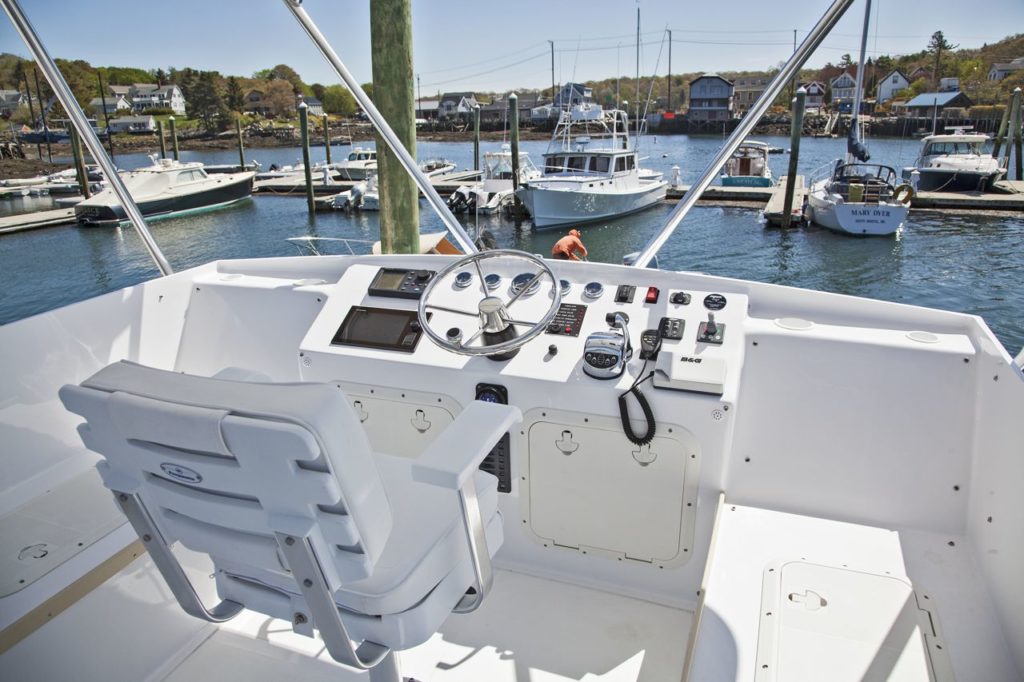 Photos of Sportfishing Dayboat: Farrin's Boatshop Hopes to Open New Market