Commissioning of the Steamship Authority's Newest Ferry: MV WOODS HOLE
Posted by Tyler Fields
The newest member of the Woods Hole, Martha's Vineyard and Nantucket Steamship Authority's fleet was commissioned in Woods Hole, Mass., in June 2016. MV WOODS HOLE was introduced to the cape and island community with much fanfare and celebration including local, state and federal government representatives, shipbuilders and Steamship Authority leadership.
MV WOODS HOLE is a product of the West coast design firm Elliot Bay Design Group and a Louisiana shipbuilder, Conrad Shipyard. Construction began in 2015 on the Gulf coast with a project budget of nearly $40 million. Work was completed this Spring and MV WOODS HOLE made the long 5 day trip to New England on her own bottom early this month.
The new design is intended to serve a hybrid role as both a passenger and freight vessel to the islands. MV WOODS HOLE will be able to carry larger loads more efficiently with additional amenities for passengers. At 235′ in length, the ferry will be able to carry more tractor trailers, standard vehicles and walk on fairs than the other freight vessels in the fleet.
Along with state of the art navigation and safety equipment, a notable addition to the MV WOODS HOLE is an antique steam whistle from a previous passenger ferry, STATE OF PENNSYLVANIA. This vessel operated along the Delaware river from 1923 to 1960. The whistle was saved by the late Richard Elliot, a writer and steamboat historian, and donated to the Steamship Authority by his wife and daughter.
MV WOODS HOLE will begin service June 17th between Woods Hole and Martha's Vineyard before shifting to the Nantucket run later this Fall.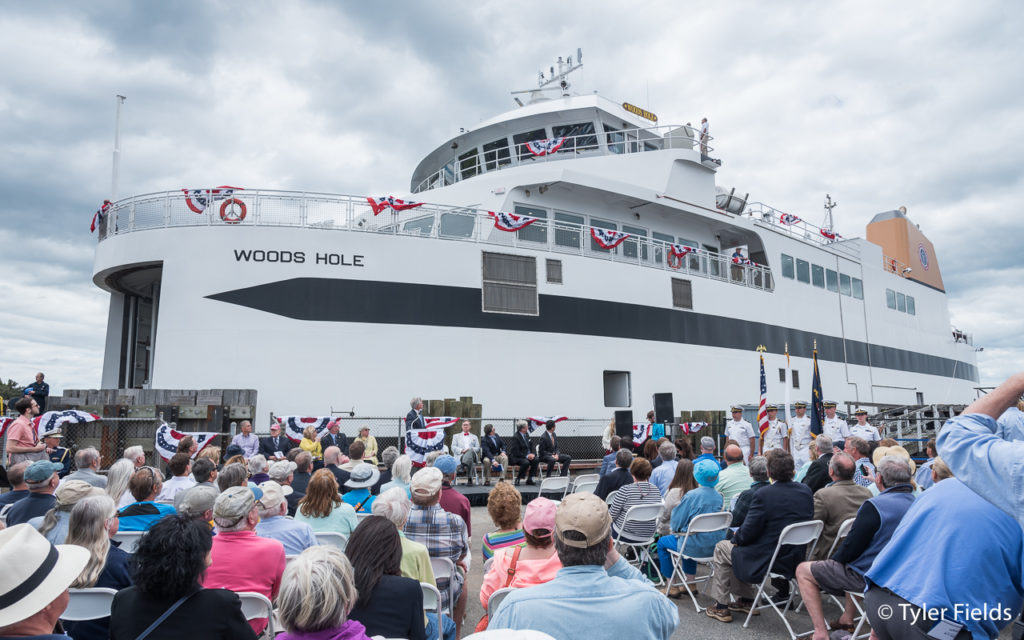 Photos of Commissioning of the Steamship Authority's Newest Ferry: MV WOODS HOLE