SINCE EACH GUILLEMOT KAYAK is individually handcrafted,
it's never a problem to customize the build to
meet the desires of each client. For example, Guillemot owner Nick
Schade built two of his microBootlegger design kayaks (tandem,
open cockpit), one in mahogany with carbon fiber interior,
the other in western red cedar with a carbon/Kevlar interior.
The first incorporated carved wooden seats and a storage
hatch highlighted by an eagle inlay and secured by a magnetic
closure system, thus retaining the craft's original lines.
Since 1993, Schade has specialized in small, car-toppable
boats using fiber-reinforced epoxy over wood strips.
He also teaches kayaking skills and boatbuilding classes at
the WoodenBoat School and elsewhere. In addition, Schade
sells plans and kits for DIY boatbuilders.
In creating completely bespoke boats for discriminating
clients, Schade frequently employs exotic materials. He recently
started using the vacuum infusion method, more typically seen
on high-end yachts but perfectly suiting his standards for a
strong, lightweight craft with overall superiority. The eagle inlay
required custom-cutting seven different species of wood into
veneer, cutting the marquetry, routing space to accept the inlay,
then vacuum bagging a tight seal. Rare earth magnets created
the watertight hatch seals; recessed finger openings eliminated
protuberances that would disrupt the design's clean lines.
"I started building boats for my own use, and want to
provide clients with a craft that enhances their experience
on the water," said Schade. "If I end up with a beautiful boat,
it is a side effect of making a high-quality boat."
GUILLEMOT KAYAKS
54 South Rd, Groton, CT 06340
860-659-8847
[email protected]
woodenkayaks.com
Excerpted from Boats of the Year 2016. Click here to read more stories from the latest edition.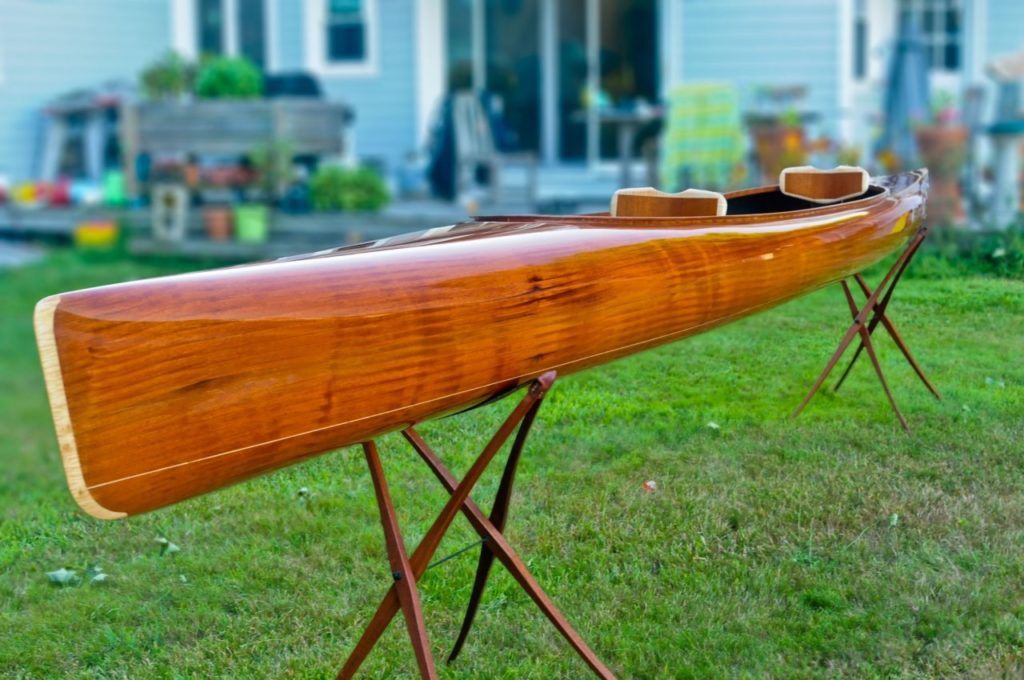 Photos of Creating Customized Crafts of Exceptional Quality