The Candy Store Cup: Superyacht Edition
Posted by Tyler Fields
Last Updated
The waters of Newport, Rhode Island have a long and famed yachting history. From the early days of the America's Cup defenders to modern carbon monsters, Narragansett Bay has served as the venue for some of sailing's biggest moments.
Established in 2001, the Newport Bucket existed for more than a decade as one of the largest superyacht events on this side of the Atlantic. In 2015, the decision was made to shift the event from the Bucket series of regattas to a new race run by Newport Shipyard and Bannister's Wharf called, The Candy Store Cup Superyacht Edition.
The first running of this event took place July 29th through July 31st just outside of Newport Harbor. Twelve of the world's premier superyachts competed in three days of racing in varied, but light conditions.
The massive three-masted schooner ADIX (65m) took first overall in Class A with METEOR (52m) and RANGER (42m) rounding out the top 3.
Class B became a battle of Maine built boats with BEQUIA (28m) and WILD HORSES (23m), both built by Brooklin Boat Yard, fighting for first place. With a close finish, BEQUIA took first honors with WILD HORSES and SIRONA (72m) second and third, respectively.
Spectators had viewing opportunities both on the water and ashore with the finish line within a mile of the Castle Hill Inn and Lighthouse. Those attending the Newport Jazz Festival were given a front row seat to ADIX – and all of her more than 200ft length – sail by Fort Adams under a full spread of canvas and firing cannon salutes from her stern.
For me, the J Class Yacht RANGER was the standout yacht. I am still blown away by the size, grace and beauty of her design. She is an elegant mix of classic styling from the original RANGER (designed by Starling Burgess and launched in 1937) and modern construction methods utilizing the latest in carbon fiber technology.
It's safe to say, I am now hooked on superyachts!
Visit the Candy Store Cup website for more information.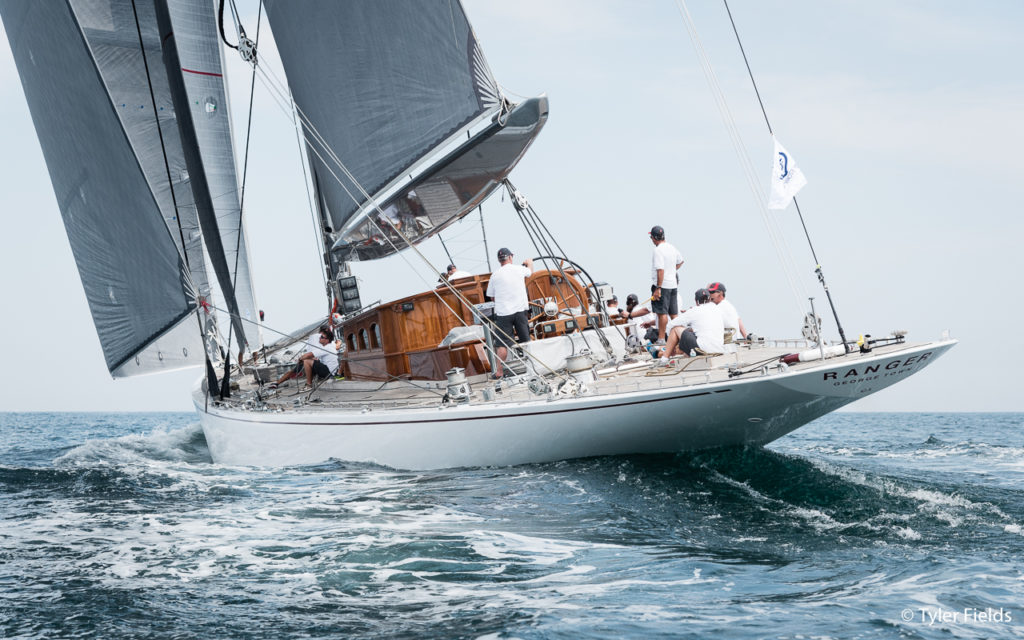 Photos of The Candy Store Cup: Superyacht Edition