Nine pre-eminent naval architects share insights at Lyman Morse event
Posted by US Harbors
Last Updated
By John K. Hanson Jr. On a stunning fall weekend, I was stuck inside….and having the time of my life! Lyman Morse Boatbuilding and the Cruising Club of America hosted a Yacht Designers Forum at the yard in Thomaston on Saturday, Oct. 21. The morning session was held on the third floor mezzanine of their boatshop. Nine of the best yacht designers working today, had set-up small displays of their current work, and were gladly sharing their knowledge with those of us who love boats, profess to know something about boats, and who quickly realized that these guys really knew about boats. It was heady stuff.
From this third floor vantage point, there was a great, birds-eye view of the 65' Stephens Waring designed, cold molded wooden and modern daysailer Anna. The boat was visible throughout as its deck has been yet been installed. This deck is being built alongside the boat and will be placed aboard, in one piece, soon. It was fabulous to be able to see the concepts that the designers were talking about in this construction phase.
Later on in the day, the Forum moved to the Farnsworth Art Museum's Wyeth center for a sold-out panel discussions looking at the challenges facing the sport of boats, and the advances in the various aspects of design, ranging from propulsion ,which is going through an incredible evolutionary spurt, through onboard systems, and the future of foiling. For me, at times the designers got into industry speak that I barely understood, but made me feel like I did and that I too was on the cutting edge. Guests came from throughout New England and all were united by a passion for boats. The post panel cocktail party at Rockland's hip new hotel, 250 Main, carried this excitement over cocktails and hors'doevres. Many thanks to Lyman Morse and the participating yacht designers: Peter Boyce of C. Raymond Hunt; Scott Jutson of Jutson Marine Design; David McCollough of McCollough Yachts; Ed Joy of Ed Joy Yacht Design; Chuck Paine of CW Paine Yacht Design; Jay Paris of Jay E. Paris Naval Architecture; Bob Stephens of Stephens Waring Yacht Design; Jim Taylor of Jim Taylor Yacht Designs; Paul Waring of Stephens Waring Yacht Design; and Doug Zurn of Zurn Yacht Design I may have missed a sunny October day, but I gained insights that will propel through the dark days of winter to come.
Video of the forum will be posted to www.lymanmorse.com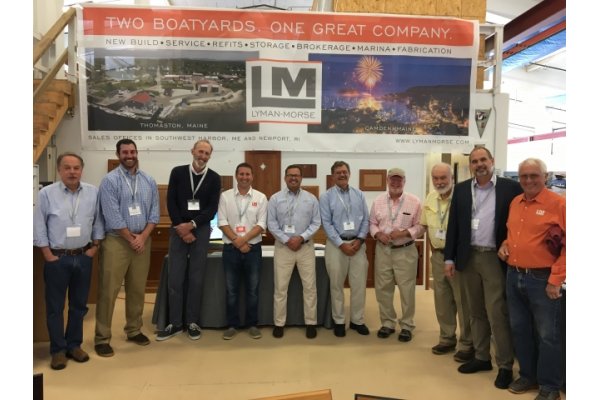 Photos of Nine pre-eminent naval architects share insights at Lyman Morse event