News from Our Coasts : Week of 5/11/2020
Posted
Last Updated
NOTE FROM THE EDITOR: To help our coastal community weather the pandemic, US Harbors is posting weekly news summaries of updates and announcements received from our coastal community, including timely information on the status of harbors and marinas around the country. The deadline for submission is Thursday, 11PM ET. Items received after that time will be put in the next week's summary.
NEWS & UPDATES THIS WEEK
Updates on Boating and Fishing During COVID-19
News & Events from Our Partners
| | |
| --- | --- |
| | Outdoor exercise is a great thing now that the weather's improving. And for socially distant outdoor exercise, it's hard to beat solo rowing. Chesapeake Light Craft can help. For inspiration, check out the video about the redesigned Oxford Shell, a swift and stable 40-lb boat you can build from a kit, and watch our own Coach Nicky demonstrate the fine art of sliding seat rowing. If fixed-seat rowing's more your style, John C. Harris is happy to share an article he wrote for WoodenBoat Magazine a few years back on "The Geometry of Rowing," with tips to ensure your oars are sized correctly to match your boat. Ready to build your own oars? CLC has plans for that, too! See you on the water. |
Rigid hull inflatables (RHI or RBI's) are known industry wide as one of the most stable and safest platforms on the water. They have proven themselves to be a staple boat design for both the military as well as the United States Coast Guard.Daring to change the way the marine industry looks at rigid hull inflatables, Life Proof Boat's is removing the majority of the main ingredient, the AIR. To replace one of man's most important invisible gaseous substances comprised of a mixture of oxygen and nitrogen, Life Proof Boats is using closed cell polyethylene foam. Impervious to water and low in density (light weight), the foam collar is the next evolution in safety on the water. Over the last 20+ years professional users have established foam stabilized boats as here to stay due to their inherently safety characteristics, increased stability, and durable nature.

Life Proof Boat's, takes these core principles and shapes them around a beautifully functional boat design the whole family will love. As described by many clients now, the boats are a combination of a high end sports car look with the bones of a military grade tank. Surely it's a boat that will last a lifetime, and provide a safe, exciting time on the water for you and your family.
The 2020 Atlantic Hurricane Season officially starts on Monday, June 1st, 2020, but someone forgot to email Mother Nature her schedule. As I write this the Florida Keys are readying for a tropical depression sure to bring high winds and rain. Probably not the best combination with the bad economic situation already beginning to manifest as the result of the government's lock-down orders. For those of us who strive, thrive and survive in the tropics, hurricane preparedness is part of how we live. Still, no harm in reviewing the checklist to make sure we come out the other side as best as we can.
#1. The smart thing is to get yourself, family and vessel out of the storm's path and/or onto high ground. That's not always practical. So, we batten down, toss out a couple of extra moorings, and a few more lines, hang some of those rubber bumper thingies over the sides, stow your sails, check the operational condition of your bilge pumps. fill all of your fuel tanks, stock up on extra cans of Spam, drinking water, batteries and, for some reason here in Florida, a minimum of 10 gallons of bleach.
#2. Record your boat's registration and, engine numbers, and description. Take pictures of it, and put this information in a safe place.
#3. Check the currency and condition of your emergency equipment and keep all equipment on hand. It will be nearly impossible to find in an emergency. If you keep your emergency equipment in a dock box remember, marina crews might remove dock boxes when a hurricane warning is issued. Your equipment could be gone when you need it.
#4. Monitor advisories and make sure friends and family know where you're going to be. Especially if you bug out.
#5. You know those people who tell you to "Stay safe." Like you meant to do otherwise?  Give 'em a hug and thank them for caring, and…. Stay safe. We'll see you on the other side, drink some Goslings Black Seal and share our stories.
Updates From Our Coastal Business Community​
| | |
| --- | --- |
| Bennett Marine – Trim tabs are a simple concept but have proven for decades to dramatically improve the performance and efficiency of boats of all sizes. With the goal of better educating the boating community on the most commonly asked questions, the Bennett Sales and Marketing teams have recently revamped their Trim Tabs 101 Guide. This useful web page provides an overview of trim tab benefits, sizing guidelines, Bennett system differences and more. Have a look and share it with a friend! For over half a century, boaters have enjoyed the tangible benefits of Bennett Marine's exceptionally durable and dependable marine products. We're proud to say that boaters trust our brand. After all, we invented the world's first adjustable trim tab—and we've never stopped pushing forward! | |
Cape Cod Shipbuilding – Although we closed completely March 23rd we are slowly forming methods to safely perform some spring tasks.  Our yard remains closed to the general public but we have been in the boatyard during the weekdays to perform repairs & maintenance.  We've posted our state & harbormasters guidelines so employees & customers know what's expected of them in the coming weeks.  A curb side pick-up plan has been set up so parts can safely be purchased & we're shipping some parts, if they are in stock.  A plan to allow our storage customers access when our employees are not here is also in place so they can perform yearly maintenance or simply pick up & sail away. We added a "make an appointment" link on our website. We await further instruction about when we can get back to building new boats. It's clear that two of our sailboat designs are already shining as social distance superstars. Bull's Eyes & Herreshoff H-12 ½'s can be easily singlehanded as they have self-tacking jibs & members of the same household can enjoy time on the water.  Wishing you all good health as we safely shift from spring to summer.
Fripp Island Golf & Beach Report – For our regular guests,

thank you for visiting us year after year.

For those of you who haven't been to Fripp Island yet,

we hope you won't put that off any longer!

We're open and we've been

working hard to get ready for your next visit.

C'mon back – we've missed you!

Call 855-847-4732 today to speak to our reservations team to plan your stay! They can't wait to hear from you!
Latitude Yacht Brokerage is welcoming spring with open arms. The weather is beginning to turn and the marine scene in Rhode Island is beginning to pick up. We have spent this week commissioning and closing on boats. We are excited to hand more keys over to new boat owners this spring and eager to get out on the water for a summer full of boating.
| | |
| --- | --- |
| MarineMax – The global growth and success of Aquila Power Catamarans continue with a celebration of the launching of its one-hundredth 44-foot (13.4-meter) luxury power catamaran. This level of success emboldens Aquila to move even more quickly to develop and bring to market the exciting new models currently in the works, including Aquila 54′ and 70′ luxury power catamarans. Both models are well on their way to reaching the market later this year. Hulls one and two for each model are already on the factory floor and undergoing the assembly and validation process. Aquila is committed to continuing to set the pace and deliver on their promise of innovation, quality, and performance as the leading global manufacturer of luxury power catamarans. | |
New England Burials at Sea – based in Marshfield, MA published a podcast this week describing the services offered in 2020.

RIMTA – We are aggregating Rhode Island marine industry deals and sharing them via our social media in an effort to promote our member businesses. We are also promoting the "Ocean Is Open" positive message – "Where Will You Go First?"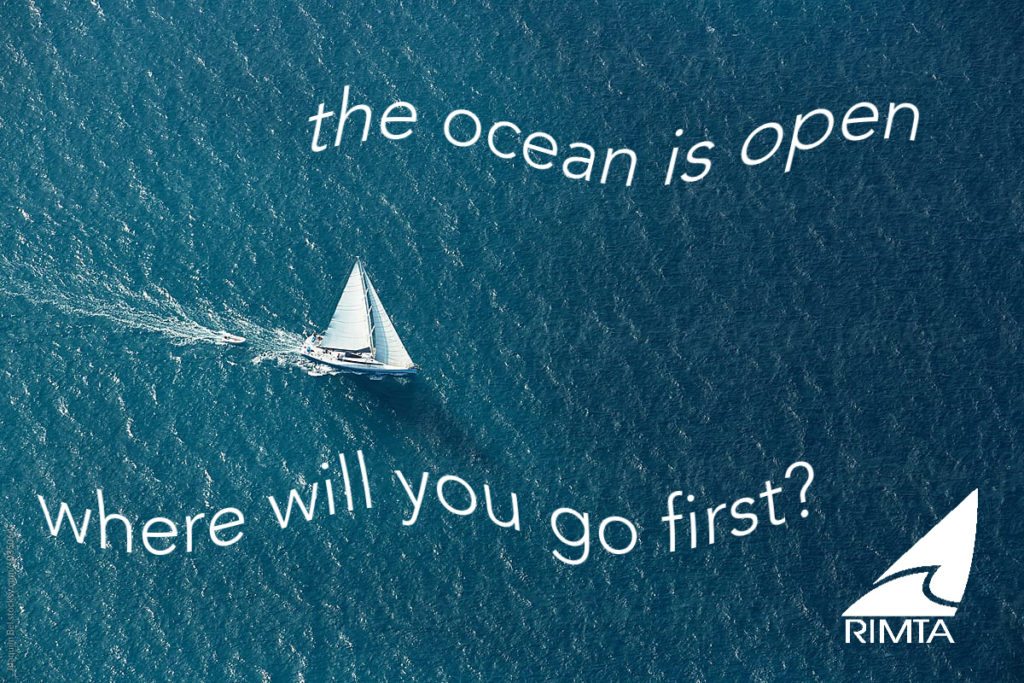 | | |
| --- | --- |
| FishTalk Magazine – Join Lenny Rudow of FishTalk Magazine for Live with Lenny, on Facebook at 5:00 p.m. Thursdays, to hear the latest news and reports of Chesapeake Bay fishing. Follow them on Facebook for great fishing content and Live with Lenny reminders! | |
Soundview Millworks – we create American Made, Personalized cutting and serving boards with nautical accents.  Great for wedding gifts, new boat owner gifts or to celebrate life's special moments. Soundview Millworks is open and operating in a safe and clean environment. Customers can enjoy FREE SHIPPING on all orders using the code: HOMESAFE.  All items are gift wrapped and can include a personalized note!  With everyone home cooking, personalized cutting board make great gifts!  Visit our website at:  www.soundviewmillworks.com or call us at: 843-324-5186
Volvo Penta

– will feature its latest engines, drive systems and integrated propulsion solutions at the Virtual Palm Beach International Boat Show, which opens Thursday, May 14.

Amid the Coronavirus pandemic, the Palm Beach show organizers cancelled the annual live event and announced the launch of its first-ever virtual exhibition. The online event will mimic an in-person boat show with virtual booths, interactive video boat tours, online chats with exhibitors, a virtual stage with entertainment and educational presentations and shopping malls with retailers.

In its virtual booth, Volvo Penta will feature the D13-IPS1350 propulsion package, the award-winning lineup of next-generation D4 and D6 engines and a comprehensive suite of Easy Boating solutions.
Vero Beach Vacation Rentals – Cottage rentals are available in Central and South Central Vero Beach. Discounts are offered to boaters! Contact Ken and Celeste Freeman for reservations at
[email protected]
---
Photos of the Week
NOTE FROM OUR EDITOR: Do you have a beautiful or fun photo of your harbor, what you've been doing for social distancing, or a project you're working on? Send it to us!

All images this week were sent to us by Best Harbor voters!