News from Our Coasts: Week of 5/18/2020
Posted
Last Updated
NOTE FROM THE EDITOR: To help our coastal community weather the pandemic, US Harbors is posting weekly news summaries of updates and announcements received from our coastal community, including timely information on the status of harbors and marinas around the country. The deadline for submission is Thursday, 11PM ET. Items received after that time will be put in the next week's summary.
NEWS & UPDATES THIS WEEK
Updates on Boating and Fishing During COVID-19
We hope this Memorial Day weekend allows everyone time to get out on the water. In addition to following social distancing guidelines please don't forget to follow the basics of boating safety!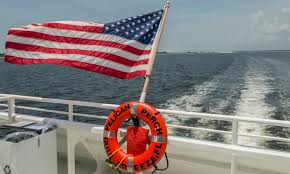 Wear a life jacket. Make sure everyone is wearing a U.S. Coast Guard-approved life jacket. New innovative styles provide mobility and flexibility during water activities.
Check equipment. Make sure you have and know how to use all the essential equipment.
Make a float plan. Let family and friends know where you're going and when you will return.
Use an engine cutoff device. An engine cutoff device is a proven safety device to stop the boat's engine should the operator unexpectedly fall overboard.
Watch the weather. Always check the forecast before departing on the water and frequently during your excursion.
Know what's going on around you at all times. Nearly a quarter of all reported boating accidents in 2018 were caused by operator inattention or improper lookout.
Know where you're going and travel at safe speeds. Familiarize yourself with local boating speed zones and always travel at a safe speed.
Never boat under the influence. A BUI is involved in one-third of all recreational boating fatalities.
Keep in touch. Cell phones, satellite phones, EPIRB or personal locator beacon, and VHF radios can all be important devices in an emergency.
Practice social distancing. Follow state and local guidance from public health officials. Tips for social distancing + boating.
---
Get the latest info on fishing and boating changes in your state: https://www.usharbors.com/2020/05/state-by-state-guide-to-fishing-boating-and-coastal-restrictions/
See updates from your state's Fish & Wildlife Department: https://www.usharbors.com/2020/04/links-to-coastal-state-offices-and-local-fish-wildlife-depts/

Paul's Marina Mere Point Bay

, Brunswick, ME – We are open for business with a few adjustments for COVID 19.  The fuel dock and sandwich shop are open. We ask people to maintain the 6-foot social distance and wear a mask if they enter the store or need to come in closer contact with other customers or employees.  Patience will be required to serve everyone safely.

Cuttyhunk, MA Marina is scheduled to reopen on Monday June 1st. At that time boaters will be required to wear masks when leaving their vessel to come ashore and transit the Island, and we will gladly hand out masks to those who need them.

We strongly advise that boaters fuel their vessel at their home base Marina prior to departure. As of this writing we are unsure as to when we will have fuel available.

Also, social distancing is advised and large gatherings of persons " more than 10" on any dock in the Marina is prohibited.

Thank you for your patience and understanding during these trying times.

Sincerely, Capt. George Isabel, Harbormaster

Huntington, NY – Here in Huntington our harbors are ready to go. Under the COVID-19 pandemic we ask all our boaters to still try to follow social distancing to the best of their ability. We know there will be plenty of raft ups this Memorial weekend. Please when on your vessels wear masks if multiple guests are on board. All our pump out facilities are open. Our Town launch service is up and running with only three patrons aloud on board plus operator. When entering your marina have gloves when touching all gates and gangways. Stay safe and enjoy and please remember channel 16 is for an emergency hailing only. – Fred Uvena, Harbormaster
Morehead City, NC – We are taking transient reservations. Restrooms/showers still closed. – Lee Everett, Dockmaster

Based on the current guidance to minimize the spread of COVID-19, Morehead City has adjusted operations to protect the health and safety of residents and employees. Many employees are working remotely or are on staggered shifts. To accommodate these staffing changes, and to keep our residents and employees safe, all city buildings are closed to the public. For information about specific departments, please visit: 

https://moreheadcitync.org/370/Coronavirus-Closures-News-Release-II

 For updated coronavirus information, please like our Facebook and Instagram page or visit: 

https://moreheadcitync.org/347/Communications

 Please sign up to our Notify Me service, and we'll notify you about emergency, important and/or weather alerts via text message or email. To register visit: 

https://moreheadcitync.org/list.aspx

We appreciate your patience as we continue to serve the public during this challenging time. 

Oldport Marine Services in Newport, RI will be fully operational starting Friday 5/22. We'll be running Launch Service, Harbor Tours, Harbor Shuttle, Mooring Rentals, Mechanical Repairs and Parts Sales. Please visit our website for full schedule at www.oldportmarine.com.  Reminder that face masks are required on all our vessels. We will be limiting passengers on all our vessels to comply with safe distancing guidelines. Please stay safe and enjoy the great outdoors, there's no better way to social distance than cruising on an open boat!
Westland Boatyard & Marina, Titusville FL – We are open and operating normally.  Our operating hours are M-F 9am – 4pm, closed Sat and Sun. We will be closed on Memorial Day as well.
News & Events from Our Partners
Boatbuilding continues on the new Back Cove 39O outboard – our team recently pulled the first hull from the mold! We hope you enjoy the time-lapse video of the event (above) and the selection of still images below.
Operating under the restriction of the CDC guidelines for social distancing our great team of crafts-people have risen to every challenge with creativity, and they continue to amaze us with the quality and beauty of the boats they create.
We look forward to sharing more updates with you in the future and hope that you and your families are happy and healthy during this challenging time.
Best, The Back Cove Yachts Team
Updates From Our Coastal Business Community​
Coastal Expeditions – Kayak & Paddleboard Rentals – Psst! Manatees are back on Shem Creek!
Saturday • Sunday • Monday Open 10 a.m- 6 p.m. by reservation
The bottlenose dolphins have been breaking all the social distancing recommendations lately on Shem Creek – and manatees are back! Enjoy our campus with private parking and dock on the quiet end of Shem Creek.
| | |
| --- | --- |
| FishTalk Magazine – Join Lenny Rudow of FishTalk Magazine for Live with Lenny, on Facebook at 5:00 p.m. Thursdays, to hear the latest news and reports of Chesapeake Bay fishing. Follow them on Facebook for great fishing content and Live with Lenny reminders! | |
| | |
| --- | --- |
| H2O Captain Eco-Tour Private Boat Excursions, an authorized permittee of the National Park Service Cape Lookout National Seashore is gearing up to re-open this coming weekend.  Although a small craft advisory remains in effect until 5am EDT Saturday, the Captain looks forward to going out Saturday and every day during Memorial Week in southeastern N.C.  Visit North Carolina's Crystal Coast and the harbors of Beaufort, and Morehead City with H2O Captain.  www.h2ocaptain.com | |
Latitude Yacht Brokerage – This week we handed over the keys of several boats to new owners and opened the doors to the public of our office in Jamestown, RI. Aside from selling boats and opening the office, we caught up with our brokers at Latitude Yacht Brokerage to ask them a few of their favorite things about boating, as well as what their favorite part of being a broker with Latitude is. Here are their responses:

Tim Norton, Broker, said his favorite thing about being on the water is spending time with friends and family and creating memories with those closest to him.

Matt Leduc, Broker, said his favorite part of being a broker with Latitude is the ability to work with a team. Through every interaction with the members on the team at Latitude Yacht Brokerage, there is always something to learn, and the availability of advice from all the members on team makes him a better broker.

Ryan Miller, founder of Latitude Yacht Brokerage says his favorite part about being on the water is spending time with those closest to him. Whether he is out with friends or out with family, it can be guaranteed that everyone on his Wasque 32 "Hope" is making memories.

And lastly, Jeff Jadul, Broker, says "While I've only part of the team since Feb 2018, I've had many memorable experiences with Latitude.  One of my favorite events is our annual holiday luncheon at the New York Yacht Club in Newport, where we can all get together in a relaxed atmosphere, enjoy a great lunch by the fireplace and share stories & highlights from the past year."

As the weeks go on stick around to learn more about the team that delivers amazing service from New York to Maine.
Manatee Max and his faithful crew were looking for something fun to do, so we came up with a barnacle brained give away scheme for you. The drawing will be held on Fishing Day, June 18th. Everything we think you need to know is here: https://manateemax.com/blog/june-18th-giveaway/
"Twenty years from now, you will be more disappointed by the things you didn't do than those you did. So throw off the bowlines. Sail away from safe harbor. Catch the wind in your sails. Explore. Dream. Discover." – Mark Twain
| | |
| --- | --- |
| MarineMax -The MarineMax app has one goal: to help boaters indulge their passion for the water. With the touch of a finger, boaters can easily connect with a local MarineMax store and order services for their boat – from routine maintenance, requesting a wash or fuel, to complete repair or upgrade projects. Users will also find access to upcoming events and inventory. The digital platform was recently listed in Boating Industry's Top Products for 2020, which celebrates innovative products and services that have hit the market within the last year, ranging from boats to engines to electronics and much more. The MarineMax App is available on both iPhone and Android. For more information and to download the app, visit http://bit.ly/2SDXxyc. | |
New England Burials At Sea is operating this Memorial Day Weekend for groups to 6 or 10 passengers.
Propspeed, leading innovator of underwater coatings, announced today that it has partnered with MJM Yachts. Under the terms of the agreement, Propspeed will be the standard foul-release coating for all MJM Yachts' underwater running gear such as propellers, shafts, struts, rudders, trim tabs and through-hull fittings.

"MJM has a hard-won reputation for selecting world-renown partners and incorporating only the finest components in their award-winning yacht line up," said Chris Baird, CEO, Propspeed. "We are confident that MJM's discerning clientele will appreciate the increased fuel economy and ease of maintenance that the Propspeed foul-release coating will provide."

"For many years we had been interested in working with Propspeed," said Peter Truslow, CEO, MJM Yachts. "Other products were not producing the results we desired. Now, with Propspeed in our arsenal, we are confident that the underwater components of our yachts will last for years to come."
RIMTA – We are aggregating Rhode Island marine industry deals and sharing them via our social media in an effort to promote our member businesses. Find this week's list HERE.
---
Photos of the Week
NOTE FROM OUR EDITOR: Do you have a beautiful or fun photo of your harbor, what you've been doing for social distancing, or a project you're working on? Send it to us!

All images this week were sent to us by Best Harbor voters!