News from Our Coasts: September 2020
Posted
Last Updated
NEWS & UPDATES FOR SEPTEMBER
We are excited to announce the second annual National Harbormaster Appreciation Day will be celebrated on October 8th, 2020. The holiday, registered with the National Day Archive, is intended to bring recognition to the vital public servants in coastal communities that often are under appreciated. Throughout the month we will be sharing stories from local harbormasters and doing weekly give-aways on our social channels: win a prize for you and your harbormaster!
News & Events from Our Partners

CAPE YACHTS – On September 19 & 20 plan to go to South Wharf Yacht Yard & Marina to discover Cape Yachts' inventory of Beneteau and SO̅LACE boats, including the Swift Trawler 41, Oceanis 51.1, Flyer 10, Antares 8, Monte Carlo 5 and the versatile SO̅LACE 345 designed by Steve Dougherty. South Wharf is located on 218 Elm Street, Dartmouth, MA in beautiful Padanaram Harbor. Voted Best Harbor in 2019 and the runner up in this year's contest! For more information about the events and to RSVP go here (https://blog.cape-yachts.com/september-open-house). To learn more about South Wharf and Cape Yachts visit www.SouthWharf.com and www.CapeYachts.com.
---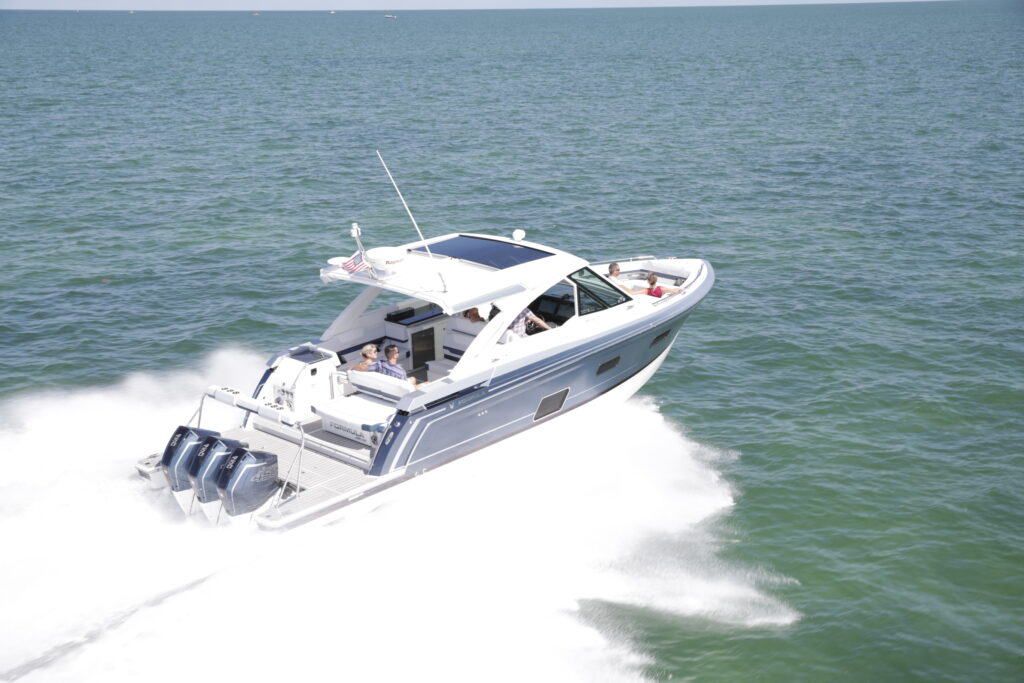 FORMULA BOATS – We've been busy over here at Formula, as others in the boat business have been, what with the current conditions and social disruptions caused by the coronavirus situation. We have been very active, taking and filling orders, to such an extent that we are very actively recruiting employees from our community. During this time, we have been working hard on the marketing side to get those willing onboard our new outboard-powered version of the 380 Super Sport Crossover.
If you've had a chance to operate it, I'm sure you've been impressed with its performance. If you haven't, I hope we can get you aboard the boat at some time in the future. In any case, we ventured to Marathon in the Florida Keys last month to get fresh photography, and it turned out wonderfully.
In other developments here at Formula, we added a new hardtop option to our popular 310 Bowrider and Sun Sport models. At first glance, it probably doesn't seem like national news to you to say the least, but this is a trickle-down offering from our 350 and 330 models, and adding it changes the whole nature of the boat, so much so that we scheduled a photo and video shoot dedicated to it in June. The new hardtop offering has increased enthusiasm and sales for this model.
---
LIFE PROOF BOATS – Purpose-built for both inland waterways and coastal cruising, Life Proof Boats are defined by things like stabilized buoyancy collar systems, shock mitigation and self-bailing decks, and with polyethylene foam under those decks, Bowers suggests his boats are virtually unsinkable and indestructible. Among them, the new 35 line offers two models designed for adventure built on the same 35-by-11-foot hull design. They also share bow, cuddy and dash layouts—but that's about all.
The GT Coupe model has a traditional rear sloped windscreen with a classically curved rear cabin. A removable canvas bulkhead on the main cabin transforms it into an open concept layout, which allows owners to choose from several different interior arrangements.
The Full Cabin model is like an off-road luxury 4×4 for the water. Beyond the tactical forward sloping windscreen, which helps eliminate nighttime glare, its interior is designed to comfortably accommodate longer adventures with family or friends, with a large table that converts to a twin-size day bed and a galley that's fit for a chef. A unique door/window design concept in the main-cabin bulkhead allows for openness throughout the interior space, and a stand-up head is located in the lower cuddy.
The aft deck arrangement of both models comes in either a cruising or fishing layout. Other popular options include electric SureShade and a dingy storage rack. Between the refined deep-V hull and optional twin 425-hp outboards you can tackle open-water stretches in fast-trawler stride or rocket over them effortlessly in excess of 50 mph. Typical fuel economy is 1.1 to 1.3 mpg.
"The hull employs a heavy strake technology, which provides excellent sea keeping. At 50 mph, these boats track true and feel just like a high-end luxury car on the autobahn."
Bowers sees a unique niche emerging for fast cabin cruisers: "We listened to our clients who love cruising but who were also looking for more speed while holding onto efficiency and not sacrificing safety or comfort. These 35s check all the boxes."
Life Proof Boats also has a new 41 Full Cabin expected to hit the water later this fall, so keep yours eyes out!!
---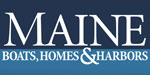 MAINE BOATS, HOMES & HARBORS MAGAZINE has published a comprehensive series of stories by well-known author Nancy Harmon Jenkins about aquaculture in Maine, the rapid growth of the industry, and its potential for the future. You can read the stories HERE.
---
MOONLIGHT MARINE — Breaking news: We have moved into the sunlight and can serve your
boating needs full time. I have retired from my day job and can now devote myself to my passion! – Dan
---
SUZUKI MARINE GENUINE PARTS & ACCESSORIES now offers anglers a complete line of co-branded performance fishing apparel from leading manufacturer Huk.  Now, men and women can rock this premium quality apparel while representing their favorite outboard brand — Suzuki Marine.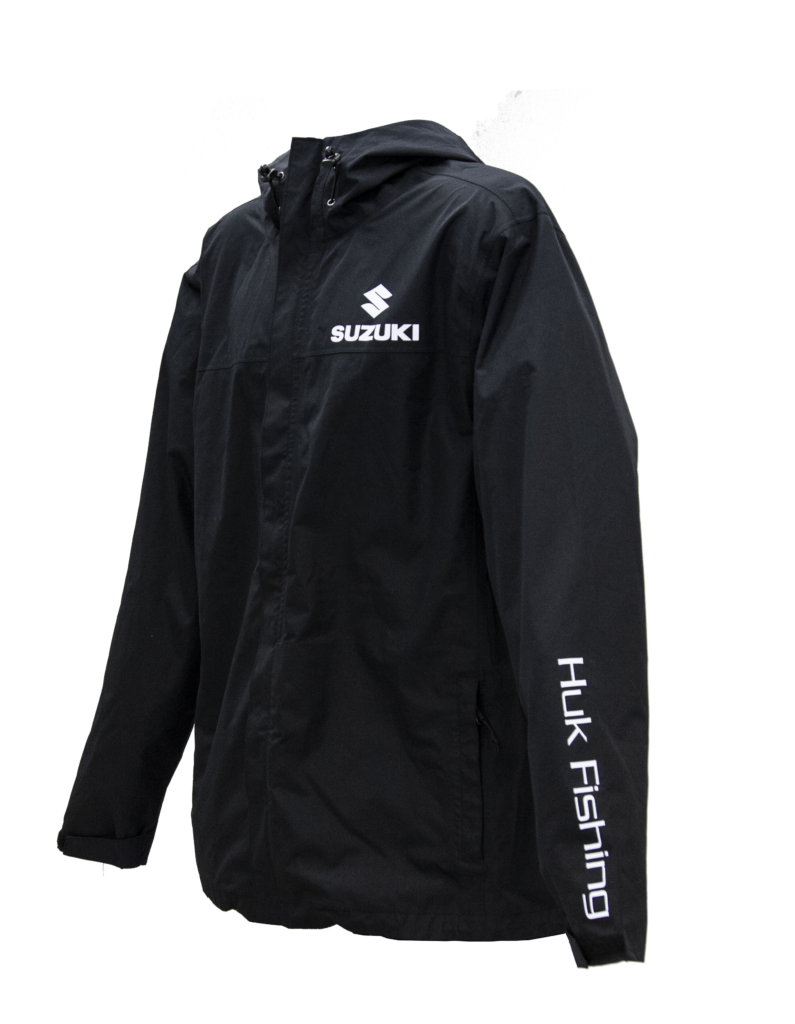 With a full line of performance fabric shirts, shorts, pullovers, rain jackets and hats, anglers can look great and stay comfortable on the water in a wide range of fishing conditions.   Each of these attractive and functional apparel items features Suzuki logo artwork and branding, and is manufactured for Suzuki at the Huk apparel factory.  With a range of available sizes covering XS to 3XL, anglers of all shapes, sizes and ages can build their ideal fishing wardrobe for fresh and saltwater action.
The new Suzuki Huk apparel line includes Men's Lowpro Raglan Long Sleeve performance fabric shirts with +30UPF sun blocking and a quick-drying design to keep anglers cool and protected from the sun.   There is also a Men's Packable Rain Jacket tailored from breathable fabric that is 100-percent water and wind-proof  — ideal for protection from those unexpected offshore or backcountry squalls.  For times when extra warmth is needed, there is a Men's Black 1/4-zip Pullover Fleece with antimicrobial treatment.   Suzuki also offers new Huk Men's Next Level Shorts providing anti-microbial sun protection and comfortable ease of movement on deck.
Lady anglers will love the new Women's Black Icon Long Sleeve Shirt and Icon Long Sleeve Hoodie featuring Huk's I.C.E. Technology fabric with anti-microbial properties and +30 UPF sun protection.    Capping off the line for men and women are one-size Trucker Hats for sun protection and good looks.
Visit www.suzukimarine.com to learn more.
Updates From Our Coastal Business Community​
The American Shore and Beach Preservation Association will be hosting four days (October 13th –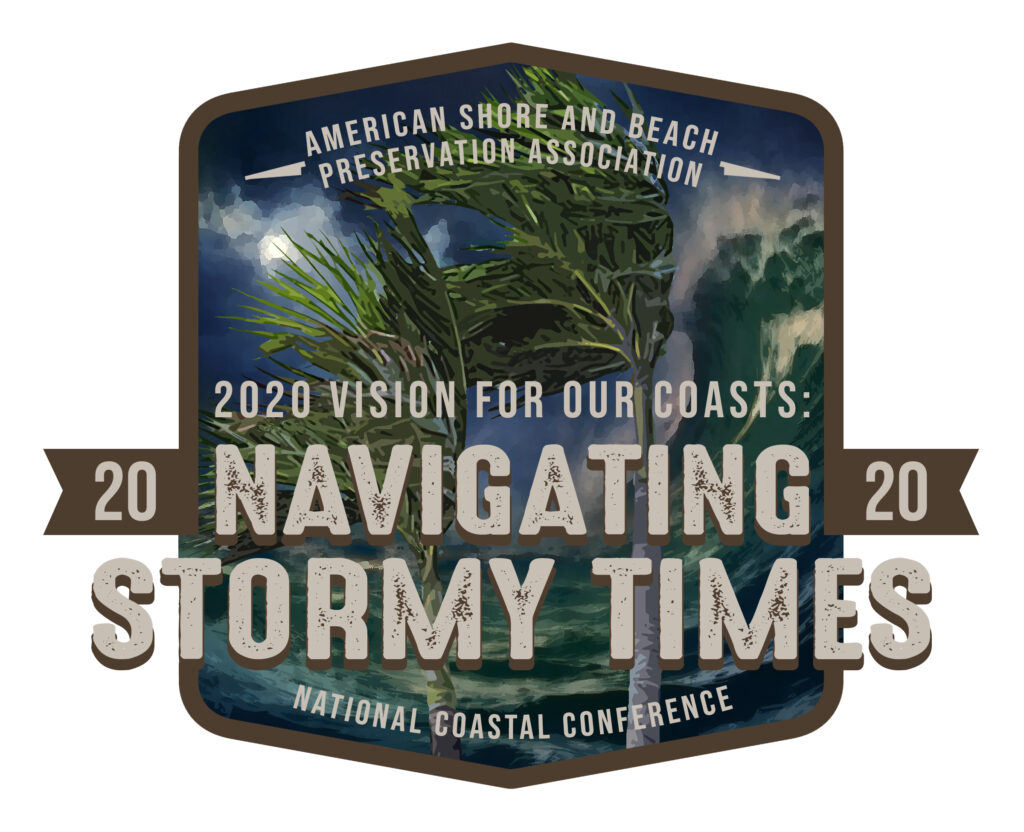 October 16th) of virtual coastal science, policy, technology and politics online, with a mix of plenary and concurrent sessions plus poster presentations and an exhibit hall. Additional information and the program can be found at www.asbpa.org.
---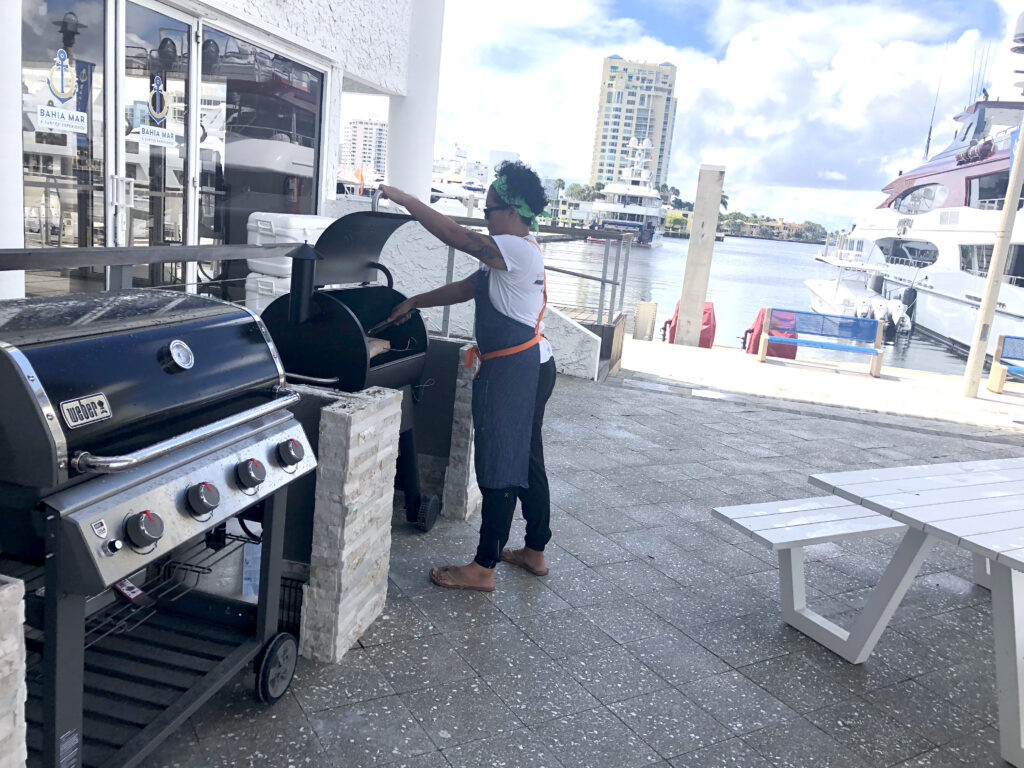 The Bahia Mar Yachting Center understands how much offering great amenities means to captains and crew. Like all boaters, they truly appreciate access to a safe, clean, modern facility that offers conveniences and features that are not always available at other marinas. This fall Bahia Mar is kicking it up a notch by revamping their Captain's Quarters. The renovations include adding appliances, along with many other new furnishings. Along with the pool table, the Captains Quarters will also have new large screen TV's and three computer stations. However, the most exciting update is the new outdoor kitchen complete with Traeger smoker and weber gas grill, situated adjacent to the Captain's Quarters. "We understand that captains and their crews need rest time and we want them to enjoy their experience at the Bahia Mar as much as their guests," said Jeff Stukel, general manager, Bahia Mar. "This is one of the areas that we plan to expand upon to ensure our visitors will continue to appreciate the Bahia Mar Yachting Center as a world class venue. We are excited to introduce the professional Suntex experience to everyone using our facility."
---
Bertram Yachts – The facility we are currently in, though a wonderful property with a long history of boat building, just won't fit us in the next couple years. We love the city of Tampa and value greatly our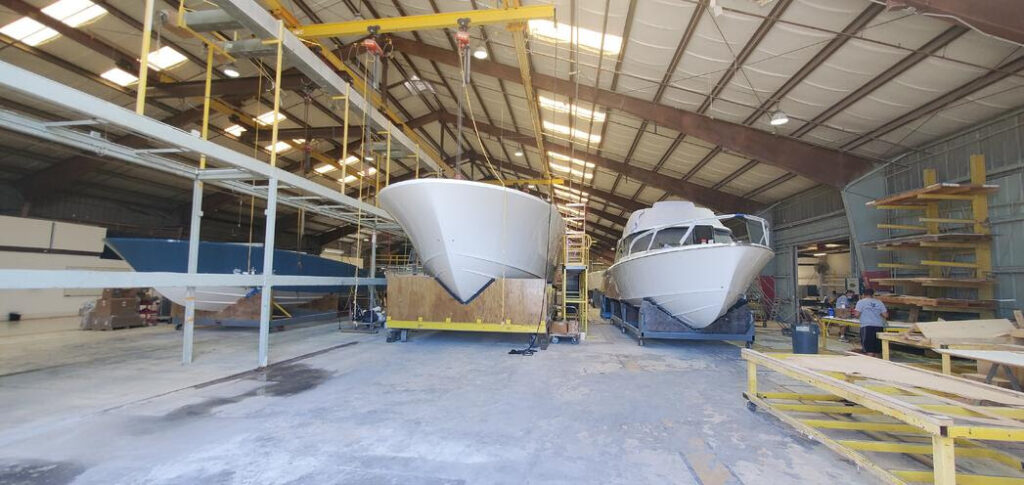 current staff, so Mr. Gavio made it clear that we needed to find a solution that is close by. We found that in a property in the port of Tampa closer to downtown. We now have a letter of intent and approval from the Port Authority to move forward. We were slightly optimistic, so our CEO Mark Paulhus has been doing what most boat builders dream of doing…designing a facility from scratch. Those are just some preliminary sketches above. We will share everything from groundbreaking to topping off here, so stay tuned.
---
The Castine Historical Society has published an illustrated book to accompany it's planned 2021 exhibit, Risky Business: Square-Rigged Ships and Salted Fish. The publication was researched and written by Richard M. Ames who spent five years of in-depth research in libraries and archives uncovering stories of Castine's 19th century maritime trade. The book retails for $23.95 and is available for sale at the Castine Historical Society's website, castinehistoricalsociety.org, under the Support drop down button.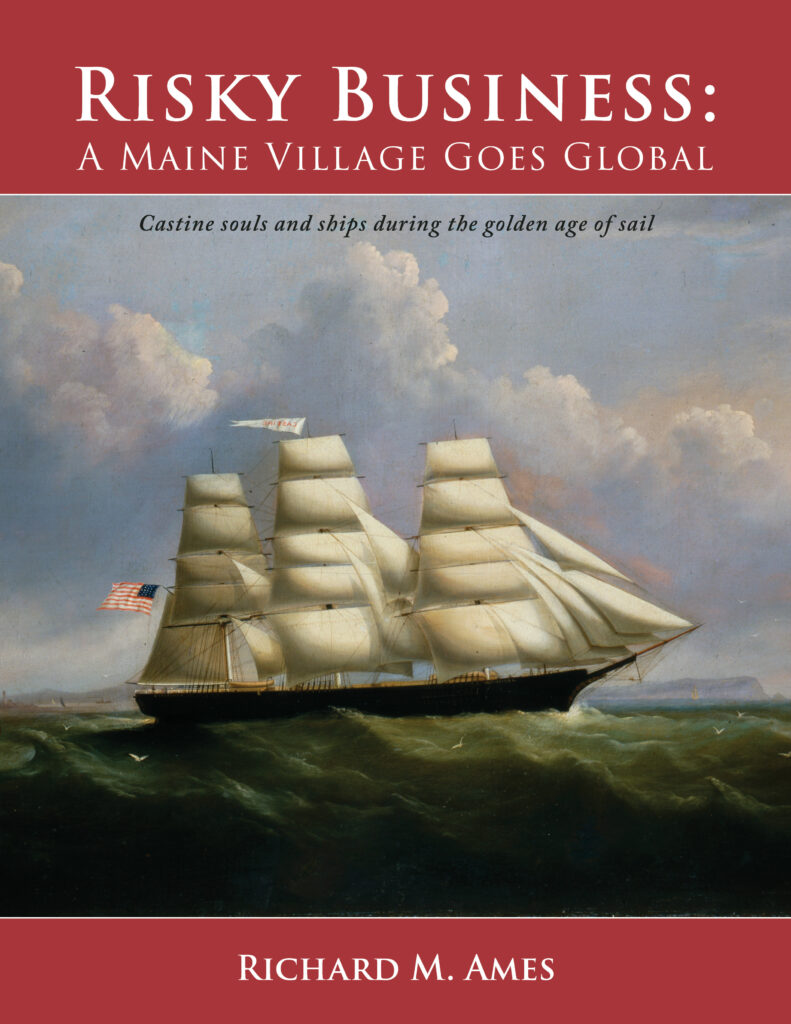 Risky Business: A Maine Village Goes Global reveals through the stories of 18 square-rigged ships built in Castine that severe weather, slow communications, navigational hazards, competition for cargo and crew, illness, war, politics, and even pirates were all too real in the so-called glory days of sail. Castine's captains, seamen, merchants, and their families accepted the risks of the commercial sailing business as they carried fish, cotton, and salt to and from distant ports in Castine-built square-rigged ships.
Ames remarked on his findings, "When embarking on this research odyssey, I never expected to uncover so many firsthand accounts related to Castine-built trading ships and the hardships endured on their voyages. Readers will learn a new appreciation for the stalwart souls and sturdy ships that empowered Castine's golden era of sail."
---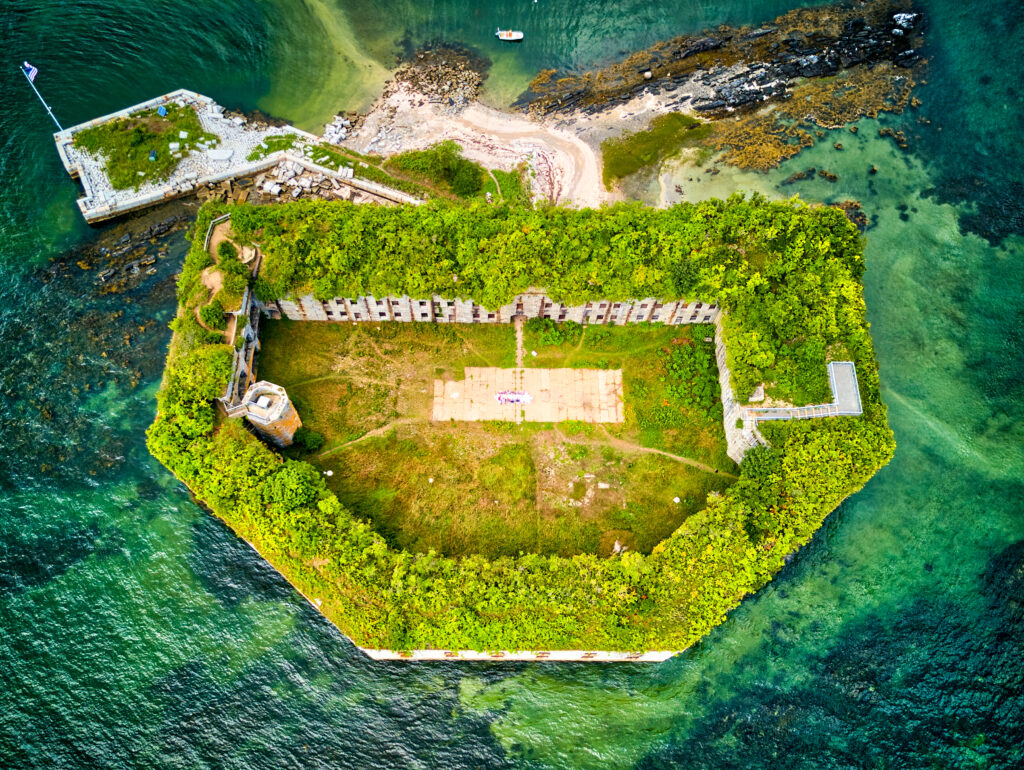 Friends of Fort Gorges has recently launched a fundraising campaign called "Your Fort" to save our beloved fort. Donations may be securely made online at https://friendsoffortgorges.org/donate/.
---
H2O Captain Eco-Tour Private Boat Excursions working as a permittee of the National Park Service's Cape Lookout National Seashore which includes both water and land tours of The Cape Lookout Lighthouse and the wild horses of Shackleford Banks in this its first season of operation have had tremendous success both in the number of passengers serviced as well as sightings of the wild horses on Shackleford.
Fall is the best time to take an excursion as the water is warm, the humidity low and the temperatures are in the 70ies and 80ies!  What a combination! H2O Captain serving, Beaufort, Morehead City, Atlantic Beach, and Emerald Isle, NC.
---
Liberty House Restaurant has now opened their doors to offer boaters an indoor and outdoor dining experience with a picturesque view of the New York Harbor. Transient boaters eager to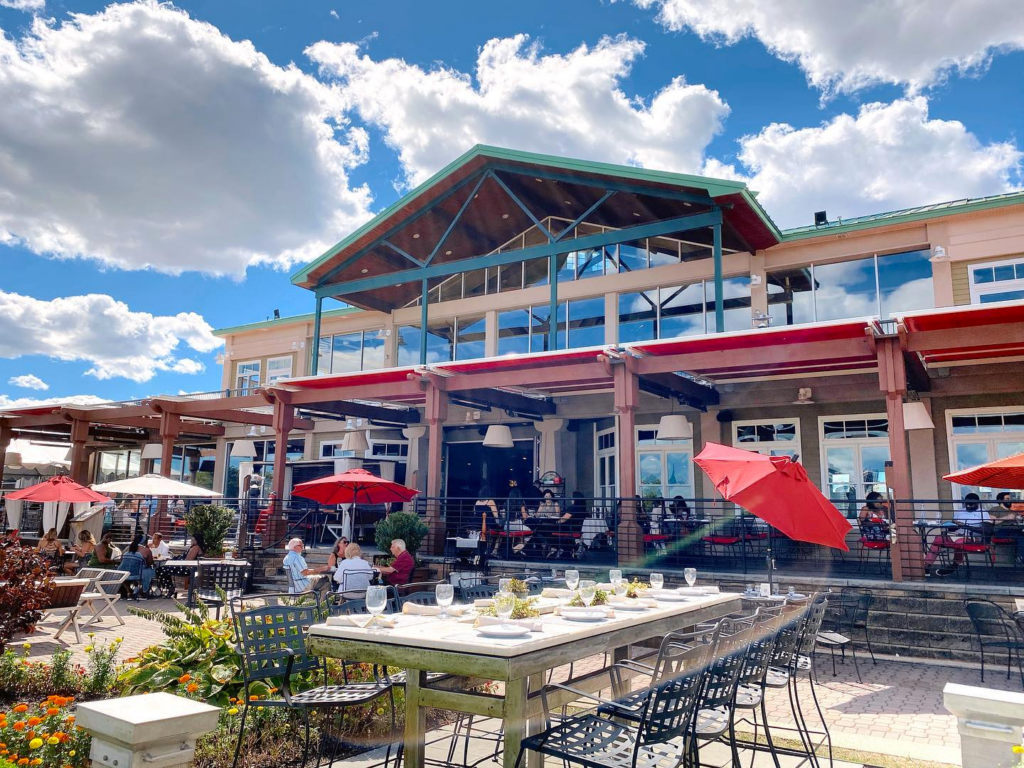 experience panoramic views of New York City can dock and dine using Liberty House's patron slips, a benefit for those looking for a brief pitstop. They are a family-friendly restaurant with an expansive outdoor area and spacious patio to accommodate social distancing practices. The seaside eatery doubles as a date night destination due to its aforementioned views. Liberty House Restaurant complies with the CDC guidelines by enforcing limited outdoor capacity and spacing out tables to secure the health and welfare of its customers
---
Soundview Millworks, Manufactures personalized mahogany and maple cutting and serving boards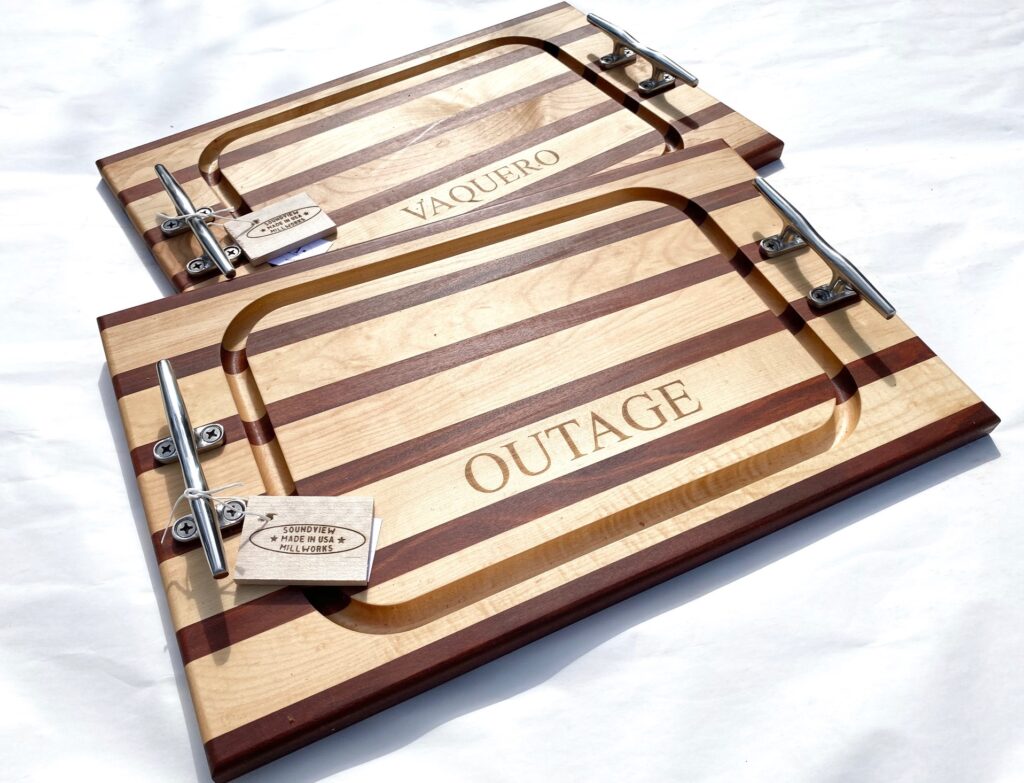 is offering US Harbors Readers 10% off orders over 150.00 through September 22.  These American made Custom boards feature Herreshoff style cleat, Fish, Whales or Seahorse's as accent handles.   Personalized with a boat name, Lat / long of a vacation home or  initial to make a great gift.  Visit there sits :  www.soundviewmillworks.com and use PROMO code: USHARBORS for the discount.
---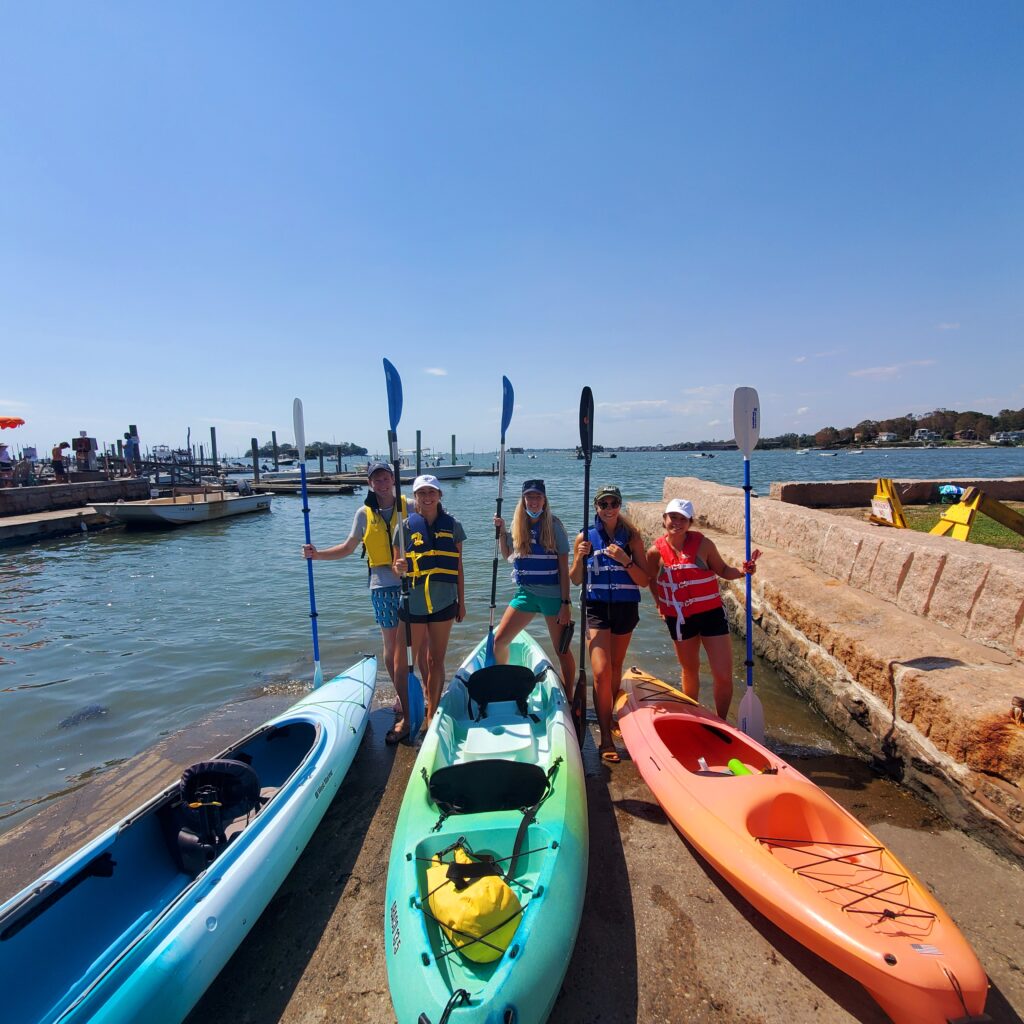 Thimble Island Kayaks of Branford, Connecticut is looking forward to fall foliage after a great summer season!
---
Two classic New England-based brands – Yachtsman Hotel & Marina Club in Kennebunkport, ME and iconic American footwear brand Sperry – have partnered together to create Kennebunkport's most stylish new hotel destination.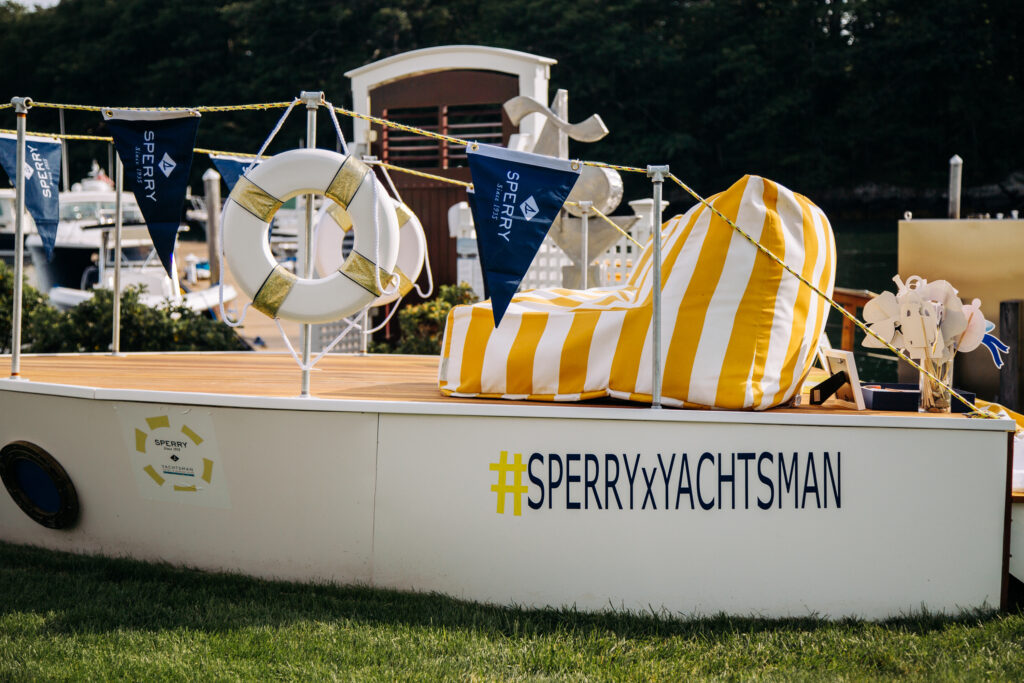 As part of the partnership, the brands will offer the exclusive "Therapy by the Sea" hotel package, which starts at $1,295 and includes:
Two-night stay at Yachtsman Hotel & Marina Club
Two pairs of Sperry summer boat shoes in-room, upon arrival
VIP Reservation at the Yacht Rock Bar by Sperry and two complimentary handcrafted cocktails inspired by the storied brand
Two-hour canoe or kayak rental from the Kennebunkport Marina
Signature Yachtsman Sea Love candle, made locally in Kennebunkport
They will also launch the Yacht Rock Bar by Sperry – a nautical-themed alfresco cocktail bar where guests can enjoy a custom cocktail menu inspired by the brand's heritage and the freedom of the yacht rock lifestyle. Guests are encouraged to capture a picture-perfect moment on a custom-built, yacht-inspired photo installation designed to replicate the bow of boat. Throughout the summer, the Yacht Rock Bar by Sperry will also play host to a series of happy hour soirees where guests can celebrate the best of a seaside summer in New England.
Guests will have the opportunity to experience these unique offerings until October 31, 2020.
Photos of the Month
NOTE FROM OUR EDITOR: Do you have a beautiful or fun photo of your harbor, what you've been doing for social distancing, or a project you're working on? Send it to us!