Suzuki Marine & Buccaneers Remove 210 Pounds of Trash From Tampa Beach
Posted
Last Updated
Tampa, FLA. — The partnership between Suzuki Marine USA and the Tampa Bay Buccaneers achieved an important new milestone yesterday, as Suzuki leadership, staff, and company volunteers teamed up with key representatives of the Buccaneers organization and regional non-profit Keep Tampa Bay Beautiful to remove trash from the beaches along Picnic Island Park.
This collaborative event — The Inaugural Bucs Beach Cleanup Powered by Suzuki — took place March 8 from 10 a.m. to Noon. This popular park features a beach, canoe and boat launch, picnic area, pier, playground, event shelters, a dog park and much more. With support, logistics and equipment provided by Keep Tampa Bay Beautiful, Suzuki Marine and Bucs volunteers were able put on their gloves, pick up their buckets and grabbers, and set out up and down the beach collecting plastic waste, bottles, cans, cigarette butts and all sorts of items from the water and sand. At the end of the two-hour event, volunteers had removed and properly disposed of 210 pounds of trash off the beach.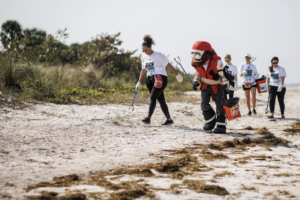 Given the physical constraints of the location and available infrastructure, this initial event was limited to volunteers from "Team Suzuki" and the Tampa Bay Buccaneers organization. Still, dozens of hard-working volunteers from both teams made a significant impact in beautifying this popular park and protecting its valuable natural resources. The Buccaneers contingent included members of its cheerleading squad, team mascot Captain Fear and a special guest, rookie offensive lineman Luke Goedeke, whom the team selected in the second round of the 2022 NFL draft.
"We are very fortunate to live in paradise here on the west coast of Florida with the terrific weather and some of the world's greatest beaches that we get to enjoy year-round," said Buccaneers Chief Operating Officer Brian Ford. "That's why it is so important to work together to ensure that our beaches stay beautiful and safe for everyone—including marine life. We are proud and excited to partner with Suzuki Marine on this first Beach Clean Up and we look forward to many more impactful community outings together in the coming years through this partnership."
Read more at Suzuki Marine.