News from Our Coasts (Week of 3/30/2020)
Posted
Last Updated
NOTE FROM THE EDITOR: US Harbors is now posting a weekly news summary of announcements and stories received from our coastal community. This is the first of our weekly posts, and includes timely information on what people who boat and fish should/should not do during the COVID-19 outbreak as well as status and project updates from our coastal communities and businesses. The deadline for submission is Fridays, 9AM ET. Items received after that time will be put in the next week's summary.
NEWS & UPDATES for the WEEK of March 30, 2020
Updates on Boating and Fishing During COVID-19
News & Events from Our Partners
| | |
| --- | --- |
| | We supply essential sectors including food production, emergency services, transportation and defense, and are therefore deemed an "essential business" in the State of Washington (our home). Given our role as a supplier to these essential sectors, we will remain open so long as we can be safely. We understand that staying open comes with increased risk, so we are carefully following all applicable Federal and State guidance to try to protect the health of both our customers and employees during this pandemic. |
One bright spot for us is that, although many of our suppliers have temporarily closed, we have increased our inventory (as we always do this time of year) and are in a good position to supply our customers in the near term, with one notable exception: we don't have any N95 disposable masks. We recently donated all of our disposable masks, about 3,500, to a local hospital. Many of our local professional customers did the same. Given that some of our front-line medical professionals were forced to use homemade masks, this was an easy decision and one that we strongly encourage everyone in our industry to make.
We wish everyone good health and good luck as we all navigate through this period, The Team at Fisheries Supply
America's Great Loop Cruisers' Association is pleased to announce that we've launched a webinar series. We hope you will join us!
With the cancellation of the Spring Rendezvous, our popular week-long event of seminars on different aspects of The Great Loop, we received requests for virtual versions of the seminars. While it is not possible to recreate the camaraderie found at a Rendezvous, we are bringing you some of our popular sessions via a webinar series every Tuesday and Thursday evening at 7 p.m. Eastern time. With this special series, you can still learn what you will need to and how to complete The Great Loop! Please visit www.greatloop.org/webinars for upcoming webinar topics and registration information.
| | |
| --- | --- |
| | Even during tough times, you've got to maintain! Last week, prior to the implementation of Governor Holcomb's stay-at-home order, our maintenance department was hard at it, refurbishing our test tank pool surfaces. Formula will be ready to build boats once we are past this challenge! Have some fun and see how people are customizing their boats with the FormulaFlex/MyWay program! |
Updates From Our Coastal Business Community
The Wellfleet SPAT food share program was created in Massachusetts to connect local oystermen with families in need.
SWITLIK Survival Products has begun producing face masks and protective gear for medical professionals.
North Sails is dedicating a portion of each work day to sewing face masks.
Citimarine (Doral, FL) has published a good article on Essentials for Onboard Social Distancing
AccuTech Marine Propeller Update on Services  — (Dover, NH) We are blessed to be designated as an essential business, servicing the US Coast Guard as well as all municipalities with marine response teams. We will continue to operate at 100% capacity including pickup and delivery throughout all of the New England States.  Just call to make arrangements to have one of our sales reps come to your location.  We have not yet seen any delays or restrictions affecting shipping domestically.  We have been contacting our colleagues as much as possible, just to check in and see how they're doing, and if we can help in any way.  Keeping moral up is critical during times such as these, remind people we will get through this as a community.   We also want to send our prayers, and good vibes, to all those folks who have not been as fortunate with their own companies, and a huge thank you to all those working on the front line of the pandemic. www.accutechmarine.com
Union Marine – Formerly Lake Union Sea Ray — We would like to share with your readers, that though our showrooms are closed, we are doing virtual tours and walk-thrus. We can set up private appointments and manage all of the documents electronically to get folks on the water in time for summer!
Jarrett Bay Boatworks – An update from the President — Our primary concern right now is for the health and safety of our team, our customers and their families, while we do our part to stop the spread. Currently, as an essential maritime small shipyard, we are still under normal operations at Jarrett Bay, but we have taken many additional precautions to reduce the possibility of any in our midst becoming infected. Like most companies, we have mandated additional personal protection gear, continually disinfect our buildings, tools, doors and work spaces throughout the day, and are limiting the number of people in spaces. We have also asked vendors and visitors to communicate by phone and email when possible.
This is an issue that will have an effect on the entire industry, but this isn't the first major challenge we have faced. We have seen some reluctance from customers moving forward on new projects, but I think that is a natural reaction when we face uncertainty. We have committed to our employees that we will help them in any way we can and we have no plans for reductions in our workforce. As this passes, I am confident people will be anxious to get back to the life they enjoy, which largely includes boating and fishing.
The boating industry is strong and we will weather COVID-19. I hope we can all look at this as an opportunity to learn and improve our industry's preparedness for the unexpected, as well as make improvements for the personal well being of ourselves and all those we care for. Randy Ramsey, President – Jarrett Bay Boatworks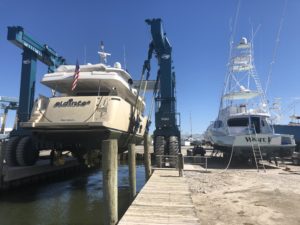 Chesapeake Light Craft — Chesapeake Light Craft, the boat kit experts, recently began shipping build-your-own kits and plans for an exciting new rowing and sailing smallcraft with beautiful traditional lines and great performance.
The new Lighthouse Tender Peapod recreates the look and feel of a traditional Maine "peapod" using stitch-and-glue techniques. We've made this beloved old working craft accessible to amateur builders!
The 13'5″ Lighthouse Tender rows and sails with bewitching style and carries big loads easily. Cat- or yawl-rigged versions sparkle under sail.
Watch the Lighthouse Tender Peapod Video!
ManateeMax Message from Port Salerno, FL – A message from Max: The traffic is a little sparse here in the thriving metropolis of Port Salerno, Florida, but it's not quite a ghost town. Our world-famous local restaurants are still serving take out, or dock side boat out if you're on the water. A lot of businesses in the area are temporarily closed, but with ManateeMax.com being a family operated business, it's been business as usual here at the "office."  Mack Yacht Services, our friendly neighbors across the canal, are still buzzing with activity, and Manatee Max's Security Team Leader is still diligently on the job.
Max is an interminable optimist and foresees a busy summer for boaters, sailors and fishermen once we all come out of hibernation. Take this time and make productive use of it. Teach your children new skills like marlinspike or greasing trailer bearings.  It is times like these when we should heed the wisdom passed down by Bob Bitchin who said, "The difference between an adventure and an ordeal is attitude."
Hold fast. Clear skies are on the horizon, Manatee Max & Crew
Trident Funding Updated on Boat Loans — In spite of the recent circumstances regarding the COVID-19 virus, Trident Funding remains open for business. We are following all recommended state and federal guidelines regarding social distancing to ensure the safety of our employees and clients.  Our offices remain open with reduced on-site staff, and wherever possible Trident employees are working remotely.  If you have concerns or questions about your existing loan, existing loan approval, a new boat loan, or refinance, I would encourage you to call or email your local sales rep directly.  Trident Funding reps are available to assist you during these difficult and complex times.  Thank you and stay safe.   https://www.tridentfunding.com/ 888-386-3888 Toll Free.  Robert Dunford, Director of Operations
Navtronics/Twintail Yachts Announces Virtual Tours and Facetime Calls — In these unprecedented times we are switching more and more to social media to showcase our Maine-built line of Southport boats.
While everyone is stuck inside longing to be back outside, we know many are thinking of the freedom of being on the water.  We are now offering one-on-one Facetime calls to do a virtual walk through on any of our boats. We are helping our clients by working in conjunction with social media profiles like @centerconsolesonly doing live walk- throughs. In addition, we are filming virtual tours of all the Southport models to help people find the boat that will best fit their needs, all from the comfort of their home.
In the days ahead we will be building out the Southport virtual library with bonus content including these walk-throughs.  These videos will be available on all our social media profiles, Instagram, YouTube, and Facebook for everyone to view.
Sebego Dock & Lift, Update on Service and Docks — Ice is out early this year and Sebago Dock and Lift is still open! For the foreseeable future our doors will be closed to walk ins. To schedule your service or get information on a new dock please call or email and we will be happy to assist with anything you may need. ALSO — We are also offering a discounts on our all aluminum stand up kayak rack!!! Retail $799, Sale Price $699
S&S Marine Announces "Paint n' Go" Bottom Painting Service
Photos of the Week
NOTE FROM OUR EDITOR: Do you have a beautiful or fun photo of your harbor, what you've been doing for social distancing, or a project you're working on? Send it to us!